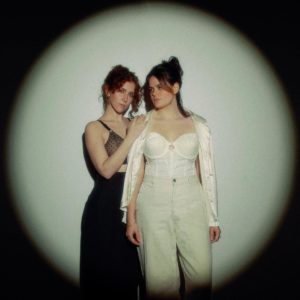 Overcoats
Used To Be Scared Of The Dark
LOMA VISTA
7/10
New York–based electronic-pop duo Overcoats emerge with their latest EP Used To Be Scared Of The Dark, a comprehensive four-song set featuring guest artists Tennis, Middle Kids, and Lawrence Rothman. The pair, consisting of singer-songwriters Hana Elion and JJ Mitchell, carved a name for themselves through rustling guitar and synth leads—however, more predominantly, they're known for filling verses with lush, explosive harmonies. Lauded for their unparalleled chemistry, the duo exceeds expectations upon first listen. The result of their latest musical journey is a multifaceted approach to these sounds. 
Elion and Mitchell's voices synced together are the perfect fit; texturally, they melt into something neat, like drinking hot black coffee with a croissant. Beyond their voices, the EP also crosses over genres. The title track, which features Middle Kids, meshes dream pop–esque notes into their usual routine. "The Hardest Part" (feat. Tennis) emotes folk roots fused with catchy beats and memorable choruses they know how to churn out best. Erupting with thoughtful and simple lyrical composition, Overcoats succeeds at revamping overworked pop songs by accenting a spin of straight-from-the-heart sincerity.
Elion and Mitchell aren't twins, but somehow they retain an intuition of knowing when and where to balance each other. It's like recreating your grandmother's favorite recipe without measurements. Overcoats' tracks are slotted into popular television shows that make you raise your head—the songs battle with the scene itself, and demand their mark loud and clear. Evolving from college students writing music together their senior year, Elion and Mitchell have come a long way; from their Audiotree session post-college to touring with indie-pop icon Mitski, they retain their humble DIY beginnings to flourish.