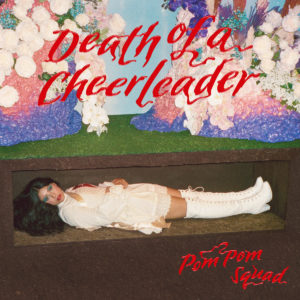 Pom Pom Squad
Death of a Cheerleader
CITY SLANG
8/10
On Pom Pom Squad's sophomore album Death of a Cheerleader, lead singer Mia Berrin explores her first heartbreak while validating a queer experience such as her own. Recalling the likes of Mannequin Pussy and Samia, the album pairs pinches of strings, assorted time signatures, and a fully confident explosiveness of pop-punk grit which together prove the record to be as complicated as heartbreak itself.
Berrin rides through the album with songs that mimic a natural ebb and flow in hopes of documenting a sense of self-evaluation. For instance, on "Head Cheerleader" Berrin sings, "I'm gonna marry the scariest girl on the cheerleader team / I'm squirming out of my skin / I'm in love with you." She registers an orb of newfound excitement—that is, breaking into a queer romance. It's similar to a plunging confidence of calling shotgun when you usually ride in the backseat, or the tightness of running in a new pair of jeans. After one lap, it usually gets a little easier. 
"Lux," in a similar vein, provides 90 seconds of fast-driven charred punk. Berrin sings, "You push and I give way collapsing inward like a cave / And I feel naked without taking off any of my clothes." This vulnerability, however common of a trope, is Berrin's way of piecing together her needs. In another track, "Crying," she begins with a surprise: A bouquet of strings moves into gritty punk navigating 6/8 territory. All of these arrangements mesh under an orchestral backdrop that sounds like a ballad shouted from across the room, and stands out from the rest of the album as an interesting anomaly.
Berrin's honest say-it-as-it songwriting is not only refreshing, it's accurate to the volatile timeline of discovering what your head and heart feel when emotions are clouded by someone else. Pom Pom Squad as a band manages to underpin this rotating landscape tactfully. In energetic bites, they prove consistency in making a punk album broken out of its grid. It's a record that leaves in the lint and isn't super polished in a way that would likely come off disingenuous coming from most other bands.