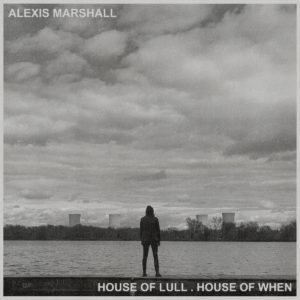 Alexis Marshall
House of Lull . House of When
SARGENT HOUSE
6/10
Imagine the scene: You're in some smoky, crowded backroom speakeasy for an open mic poetry night. Most people performing do so in the way you'd expect—they shuffle up to the lonely microphone in the spotlight, tentatively read a poem or two that they've printed out, and then shuffle off again to a polite round of applause. And then, out of the shadows, a tattooed beatnik/Hare Krishna/Frank Booth hybrid walks onstage with a boombox. He sets it down and presses "play," allowing a dystopian cacophony of industrial noise to fill the room. And then he—he being Alexis Marshall, the vocalist of uncompromising, cult-like Rhode Island noise rock outfit Daughters—starts shouting and ranting, bellowing the words of a lost soul, one forsaken by both God and the devil, one whose reality is entirely internal yet still reflects the turmoil raging incessantly and constantly in the ravaged world outside. 
All of which is to say that House of Lull . House of When—Marshall's debut solo album—sounds like the end of the world. It's not one brought on by a Hollywood blockbuster-style disaster, however. Rather, this album's nine tracks—all of which were essentially improvised in the studio with help from Daughters drummer Jon Syverson and Young Widows' Evan Patterson—capture the collapse of modern industrialized society and the ravaging, fatal effects of the economic system that rules it. It's not just capitalism's destructive tendencies that this record depicts, though, but also the damaging effects of religion, and a more harrowing mental collapse. 
On their own, devoid of the sinister, macabre soundscapes and post-apocalyptic atmosphere created by the music and Marshall's unhinged delivery, it's hard to know if these poems—for these are poems much more than lyrics—would stand their own. Opener "Drink From the Oceans Nothing Can Harm You" and the visceral descent into madness of "Religion as Leader" contain some riveting imagery, but they're much enhanced by Marshall's powerfully deranged delivery. Yet while there's merit and substance to the words and imagery here—unlike, for example, the poetry by Touché Amoré frontman Jeremy Bolm (who has previously released poems by Marshall on his label, but whose poetry doesn't really work on paper)—the arresting, atmospheric soundtrack certainly helps carry them further than they'd otherwise go. Whether that's the buzzsaw frenzy of "Open Mouth," the disturbed paranoia of "Hounds in the Abyss," or the tormented ender "Night Coming." 
It's an uneven listen, and its abrasive, experimental weirdness can be too overbearing (as on "It Just Doesn't Feel Good Anymore"), but House of Lull . House of When is nevertheless a weird, wild ride worth experiencing at least once, even if that's just to see whether you can make it all the way through.