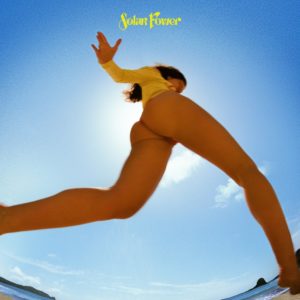 Lorde
Solar Power
EMI
6/10
Lorde very quickly became a towering, enigmatic giant of the pop universe back in 2013, with the unexpected mainstream embrace of her single "Royals" and the excellent accompanying album, Pure Heroine. Though it lacked an inescapable smash single, its follow-up Melodrama scanned like the serious, important follow-up her debut deserved, confessional and richly melodic in equal measures. It arrived four years after its predecessor, and after she released it, she promptly disappeared for another four.
It isn't unusual for artists to intentionally subvert expectations, but it is unusual for an artist inclined to go so big to instead return with a calculated whimper. Lorde's third album, Solar Power, emerges at a moment where the world is begging for escapism, and Lorde is itching to provide it. So if Solar Power seems like an album well-calibrated for this moment, why does it feel so inessential?
The bright, acoustic title track, released earlier this summer as the album's first single, is so laser-focused on projecting totally laid back, chilled out vibes that I scanned the credits for Jimmy Buffett's name. But although it's willfully, perhaps frustratingly minor, "Solar Power" does evolve musically from its first notes to its last. Too much of the rest of Solar Power is just as carefree in attitude but too musically nondescript to leave an impression.
Take the rambling "Oceanic Feeling," which closes the record. Its six-and-a-half-minute running time may intrigue at first glance, but I regret to inform you that its considerable length is not utilized wisely. Its general lack of direction is indicative of an album that too often forgets to develop songs to latch onto (the much shorter, almost interlude-y "Leader of a New Regime" stumbles in similar ways). "Fallen Fruit" targets climate change, but like so many artists before her, Lorde never quite gets the tone right, lacking the bite needed to land any significant blows. There are issues of tone, too; when Lorde released "Mood Ring" as a single recently, she shouted to anyone who would listen that it's intended as satire—but it lacks any sharpness, and without Lorde's noisy explainer, it might be hard to parse exactly what she's going for.
Still, if anything about Solar Power inspires confidence in Lorde's future, it's her lyrics. "I thought I was a genius, but now I'm 22," she says on "The Man with the Axe," gesturing toward her "fistful of tunes that it's painful to play." Much of Solar Power, when it isn't invoking Sheryl Crow, is vacillating between these two themes: nostalgia and the forces of time ("'Cuz all the music you loved at 16 you'll grow out of," she bemoans on the Lana Del Rey–esque "Stoned at the Nail Salon")—and, like Billie Eilish's Happier Than Ever, the withering scrutiny of fame (addressed most directly on "The Path"). Lorde writes about these concepts from a compelling point of view; she just forgot to pair them with music that matches the vitality and urgency of her feelings.