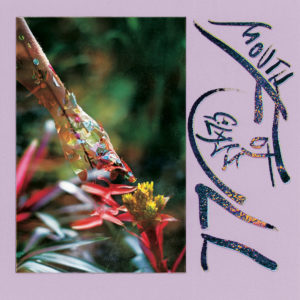 Macie Stewart
Mouth Full of Glass
ORINDAL
8/10
When I listen to Macie Stewart's music, I recall a scene from the film Nomadland where Swankie speaks about her experience alone on a lake. She observes each swallow's nest shrouding like a dome above her. The birds fly around in broken succession, their formation reflected upon water. She imagines she's flying with them in this momentary rapture: "And the little babies are hatchin' out and eggshells are fallin' out of the nests, landin' on the water and floatin' on the water. These little white shells," she says. "It's like, well, it's just so awesome."
In a way, Stewart's music presents this immersion between the unspeakably intimate and the reality of self. Mouth Full of Glass is the debut solo album from Stewart, who you may know as one half of the band OHMME. The Chicago-based singer-songwriter and multi-instrumentalist cradles a collection in this crucible of aromatics. The album's eight songs pair perfectly on their own like pieces of ginger and garlic in oil, stewing a culmination of flavors that emerge. 
Stewart's musical career sprouted at the same age many children recall their first memory. At three she learned piano, and later, violin. Some of your first memories might be noting the colors of a table you sat at the first day of kindergarten, or a drop of tomato juice stained on your family's cream-colored dog. But somehow, you can't think of the name of your babysitter who patiently spooned you carrot puree while mom was away. We don't always pick and choose what we remember, and Stewart's music feels like an iteration of sounds created in order to summon these memories as reimagined, animate, and tactile beings. Communicating with music at a young age is quite momentous—you don't know much about the world, but you seem to familiarize yourself with this endless technology of sounds. Mostly, it's so spacious that it's beyond any child's understanding, and in that, you can understand the world in whatever way you'd like.
On Mouth Full of Glass, Stewart fills gaps in her songs with fingerpicked guitar, unwrapped with string arrangements and synth pairings that underpin her soft vocals until they feel weightless, like being carried away by a hundred balloons. For instance, in "Wash It Away" she sings, "I must admit I'm through with it / And wash it away / Finding the key / To get rid of me / And wash it away." She situates the instrumental with a motion, discharging a wash of violins mimicking the nature of a petite push-and-pull; there's just enough water to wet your toes. This is nothing new to Stewart. She has a collaborative album with composer Lia Kohl where she sketches the sound of a shattered shell or screaming tea kettle with strings, bringing the inanimate to life. And in its full shell, Stewart's debut distinguishes her as a songwriter who fully belongs to herself, along with the planet of solitude she birthed her songs into.