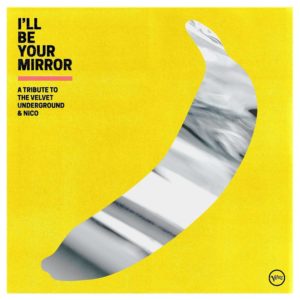 Various Artists
I'll Be Your Mirror: A Tribute to The Velvet Underground and Nico
VERVE
7/10 
Whether as an appetizer to the main meal of director Todd Haynes' upcoming Apple TV+ documentary about The Velvet Underground, or as yet another multi-artist odyssey from the late tribute producer-curator Hal Wilner, the celebration of poetic drone-punk's most holy text, The Velvet Underground & Nico, is a valuable one. As his last project before an untimely death in 2020, Wilner focuses his attention on 1967's street-hassling opera, a radically ahead-of-its-time epic touched by then-taboo subject matter such as alternative sexualities, hard drug abuse, and prostitution. Rather than play these concepts for their shock value, Lou Reed fashioned a frank poetic monologue on his daily observed reality, and with John Cale (with whom Reed co-wrote the gently autumnal "Sunday Morning" and the hauntingly buggy "The Black Angel's Death Song"), Maureen Tucker, Sterling Morrison, and Germanic chanteuse Nico, crafted some of early rock's most manic, mesmerizing music. 54 years after its release, The Velvet Underground & Nico still sounds and feels like no other album.
How, then, and who, to let lionize this proto-punk classic without sanitizing it, while holding onto their own personality and satisfying Wilner's wont, is a cautious exercise. While the raw and repetitive pounding of the VU's original "All Tomorrow's Parties" is softened here, made spare and spaced-out by St. Vincent and pianist Thomas Bartlett, Reed's equally innovative contemporary Iggy Pop (with instrumentalist Matt Sweeney) keeps the aggression taut, wild, and feedback-heavy on their version of "European Son." A similar incrementally building wall of woe and aggro-wailing can be found in the Thurston Moore, Bobby Gillespie, and Jonah Falco take on "Heroin," even if it does go on too long for its own good.
Violinist Andrew Bird and Lucius' lovingly orchestrated valentine to sadomasochism, "Venus in Furs," is played a little too nice, even if Bird's fret-riding frenzy is an apt tribute to the mastery of avant-gardist Cale. The same can be said of Angel Olsen and Sharon Van Etten's slow, folksy, and tame duet on "Femme Fatale." It's good, but lacks either and both of each artist's spikiness. 
Thankfully, Wilner's introduction to the classic—the natural start-point of Velvets fan and crooner Michael Stipe, paired with ambient jazz guitarist Bill Frissell on a tender chamber-pop variation of "Sunday Morning"—is as lovely, fall-like, and serene as was Reed's original entry. Reminding us all that vintage violence such as this is best served with a friendly kiss before a bracing slap, Wilner's idea of The Velvet Underground is almost as cunning as Cale and Reed's original invention.