Pitchfork Music Festival
July 18–20, 2015
Union Park
Chicago, Illinois
Chicago isn't known for its heat in the way that other cities are. But on Friday, as Union Park began to fill up with the first of 18,000 or so attendees for the 2015 edition of the Pitchfork Music Festival, we may as well have been in Miami, or Las Vegas, or Houston. The heat index hovered near the century mark. The City of Chicago sent out an email warning that temperatures would reach upwards of 110º on Saturday. Riding in on the CTA's green line, Houston suddenly sounded pretty good.
But Houston hasn't been able to put together anything like Pitchfork; neither has anywhere else, for that matter. With its restricted size, attentive crowds, and finely curated lineups, Pitchfork isn't just the best music festival in Chicago, but one of the best  in the country. And for its ten-year anniversary, the fest brought out one of its strongest lineups yet. We were on hand to catch a few of the festival's best and brightest, and to scope the scene. Keep reading below as we hand out superlatives and click here to see our picks for the Fest's Best Dressed.
---
Best Way to Greet the Sun
Natalie Prass has been steadily touring her self-titled record since its release in January. And while the album's delicate breakup songs make for powerful, challenging listening, they take on a new brightness live. Prass' backing band highlights the funk latent in pretty much everything that producer Matthew E. White touches, enhancing the jaunty rhythm of standout "Bird of Prey." Prass also played a new track that finds her vocal skipping over octaves at an incredible speed, sounding a bit like all four members of Crosby, Still, Nash & Young singing the first verse of "Carry On" together.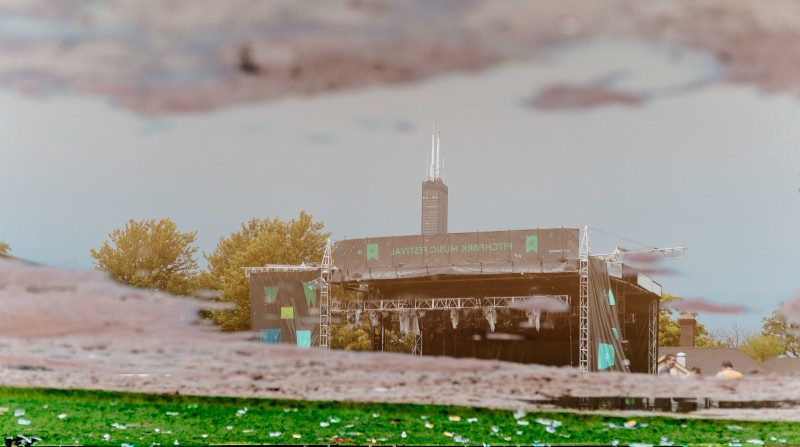 Best Picking Session, Acoustic Division
On Way Out Weather, Steve Gunn's excellent 2014 album, the former member of Kurt Vile's Violators builds a lattice of acoustic guitar lines so intricate they'd make John Fahey blush. With the full force of his live band behind them, Gunn's songs expand into the kind of powerful, barnstorming rockers of which My Morning Jacket used to hold the copyright. Bonus points to Gunn for not letting the oppressive humidity and his intense string-bending pull any of his guitars out of tune.
Most In Need of the Cover of Night
Giving Panda Bear a mere hour to run through his set seemed strange enough. Forcing the beat-maker and sound collagist to do so under the glare of the sun kept his songs from having their full impact. While tracks from Panda Bear Meets the Grim Reaper shined, their neon edges would've burned brighter after dark.
Boldest Move by a Legacy Act
People in Chicago like the Cubs and the Blackhawks. They like complaining about Rahm Emmanuel. But they love Wilco. Given Pitchfork's celebratory nature, it would've made perfect sense for the Irving Park band to roll out an hour's worth of hits, or to re-create the all-acoustic set they played at their own Solid Sound last month. Instead, Jeff Tweedy and co. walked on stage to the tune of "EKG," the leadoff track of their then-24-hour-old record Star Wars, and then proceeded to play the whole damn thing. Though it's arguably the strongest album Wilco have made since 2004's A Ghost is Born, the Star Wars tracks sound like they need to be played a few more times before they can carry the same set-list weight as a show-stopping "Handshake Drugs" and "Kamera" did on Friday night. Still, Wilco get infinite credit for inevitably trying the patience (and the pink carnations) of their hometown crowd by devoting the entire first half of their set to new material.
Most Weather-Resistant
The last time Detroit's Protomartyr were in Chicago was in late February, when they played the Empty Bottle's Music Frozen Dancing, an outdoor festival and masochistic exercise that pits attendees' devotion to music against their devotion to the tips of their appendages. On Saturday, the group went on at 1:45, with a genuinely painful sun beaming right through the canopy of the Red Stage. "Bring us around in the spring, for fuck's sake," said singer Joe Casey. Given that Protomartyr constantly live in the gray area between insult and joke, it's not clear whether he meant it or not.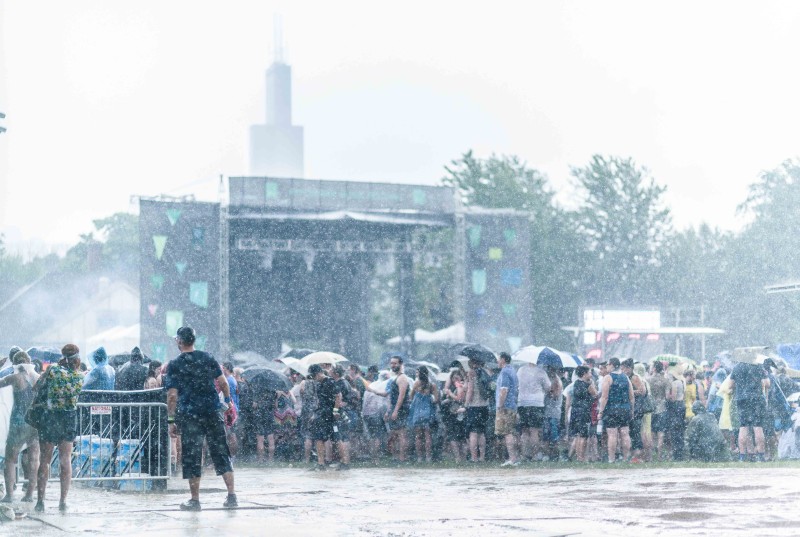 Most Unfortunate Crowd
Ex Hex managed to work through three or four rain-soaked songs before the heavens opened up and unleashed a few lakes worth of rain on Saturday afternoon. The festival was evacuated to the tune of lusty boos that were quickly drowned out by boiling thunder.
Best Refuge
Shoutout to Bottom Lounge, the pinball bar and concert venue near Union Park that suddenly became a shelter of last resort.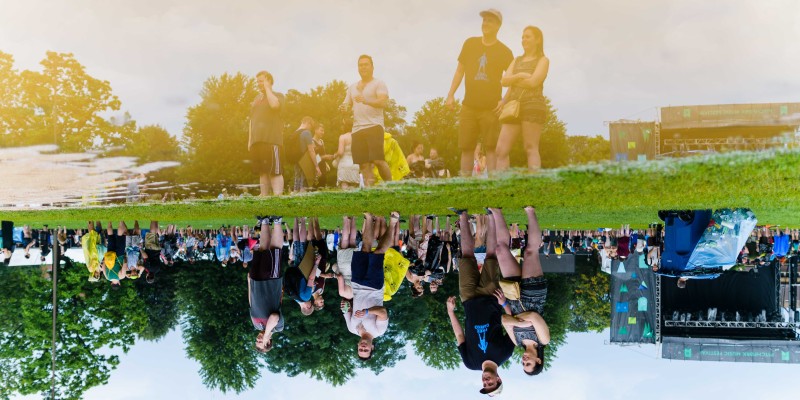 Hardest-Working Band
Brooklyn's Parquet Courts ran through three sets in as many days in Chicago. Sandwiched between a raucous set at Thalia Hall on Friday night and a sloppy secret show at the Virgin Hotel late on Sunday, the Saturday afternoon performance on the Red Stage provided a much-needed jolt of energy for a soaked crowd that had just found its way back into the festival grounds.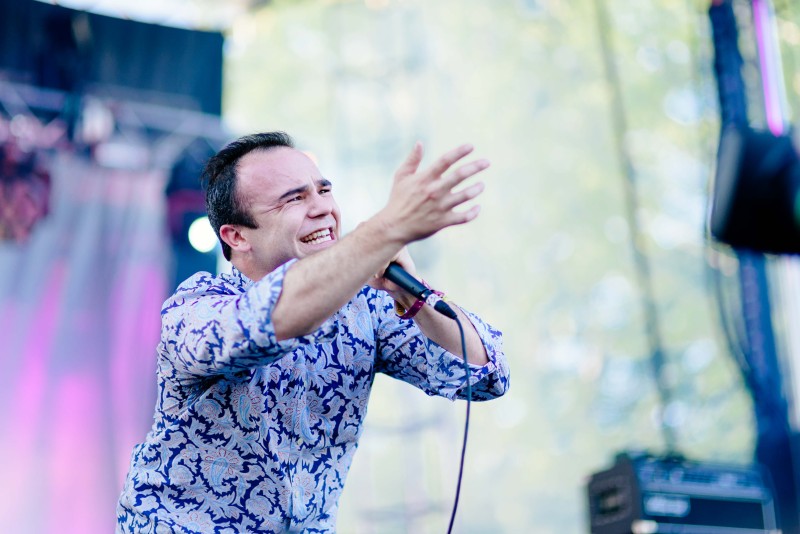 Hardest-Working Frontman
What is there to say about Future Islands frontman Samuel Herring that hasn't already been said? Just know that no amount of heat, rain, and silk clothing will stop Hemlock Ernst from doing The Herring until he sweats through his gray denim.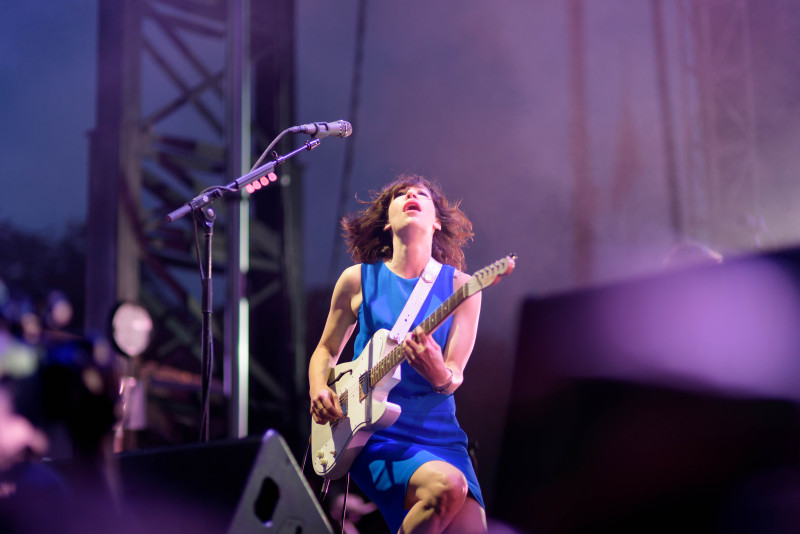 Most Triumphant
At this point, six or so months into their reunion and making their second lap around the country, it would be understandable if Sleater-Kinney were beginning to seem like they were going through the motions. Hardly. Corin Tucker, Carrie Brownstein, and Janet Weiss barreled through their Saturday night headlining set, opening with "The Fox" and only ramping up from there. While tracks from The Woods and this year's No Cities to Love found them at their most intense, "Dig Me Out" and "You're No Rock 'n' Roll Fun" (unrehearsed and played for only the second time since the group re-formed) set the crowd off. Brownstein, in particular, owned the large stage, windmilling and high-kicking like Pete Townshend in a blue dress and heels.
Biggest Disconnect
Freddie Gibbs ended just about every one of his songs by goading the crowd into chanting "Fuck po-lice!" The call is understandable coming out of the Gary, Indiana, rapper, but the response from the largely white, middle-class (and, it should be said, extremely high) crowd didn't feel like solidarity in the face of current events so much as a fun thing to say between puffs.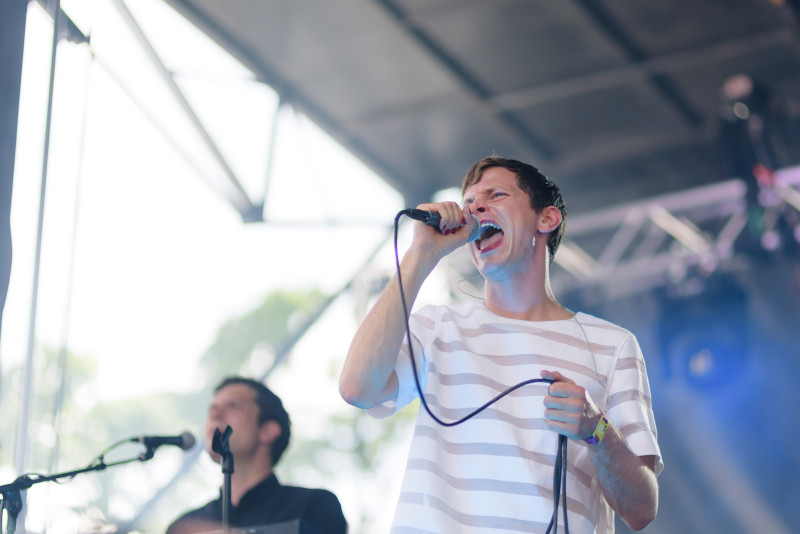 Best Quip
"On my way to the stage, someone told me to take off my lipstick," said Perfume Genius's Mike Hadreas. The singer's speaking voice is soft, almost demure—a sharp contrast to the throbbing, atonal sound being pumped out by his band, and to his own rich vocals. "I told him no," Hadreas continued to much applause. "I could have told him no forever."
Most Ready for Primetime
A year ago, Courtney Barnett was playing a side stage early on the first day of Lollapalooza, hair obscuring her face as she worked through songs from her Sea of Split Peas compilation. On Sunday afternoon, with the sun in her eyes and a massive crowd at her disposal, she and her band, The Courtney Barnetts, ripped through most of Sometimes I Sit and Think, and Sometimes I Just Sit with a ferocity and charm that hadn't yet been developed at their last Chicago festival gig.
Best Soundtrack to a Much-Needed Nap
With Pitchfork Fest headed into its final hours, Jamie xx stepped to the decks on the Red Stage and spun through a set that skirted easily between experimental dance music and acapella soul. Despite the crowd's triumphant roars—and xx's sub-atomic bass hits—the mix made space for perfectly blissed-out rest.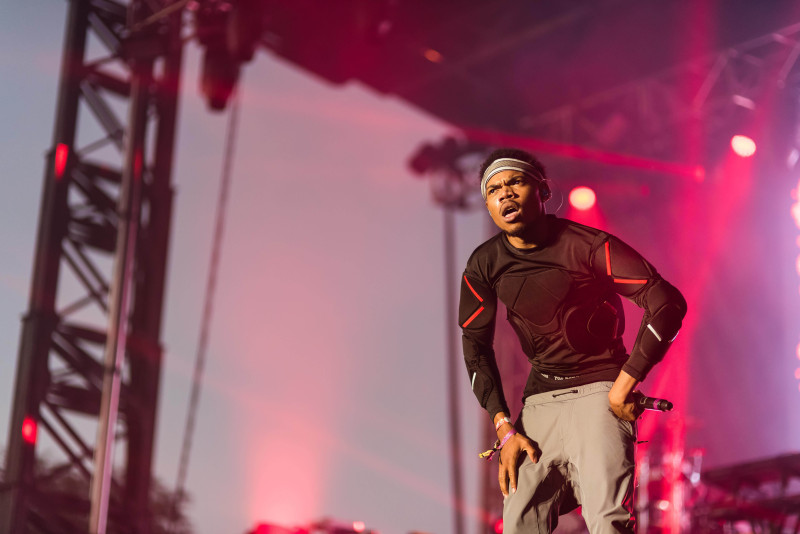 Weirdest Appearance
No, it wasn't the ubiquity of modular flooring company FLOR's 18″ square carpet tiles (though truth be told, they're a very close second). For days leading up to his festival-closing set, Chance the Rapper hinted at an impending collaboration with fellow Chicago native Kanye West. "Me and Kanye and a lot of Chicago artists are working on a collaborative effort that will be released tentatively," Chance told Windy City Live last week. So imagine the reaction when Chance brought out a special guest at the close of his set: gospel rapper Kirk Franklin. The duo performed Chance's "Sunday Candy." Somewhere, presumably, Yeezus wept.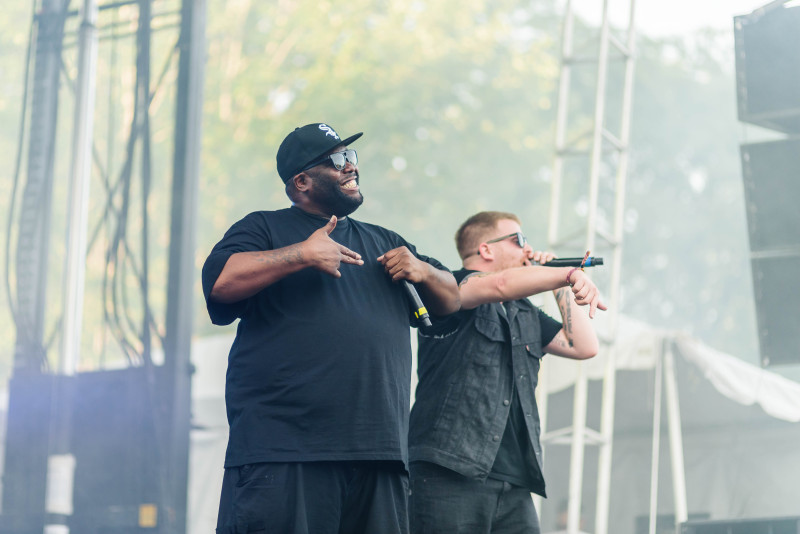 Biggest, Best, and Most Baked Crowd
On paper, Chance the Rapper makes sense as a headliner. And to be sure, there were plenty of people decked out and ready for Chance to close out the festival on Sunday night. But from the moment DJ Trackstar took the stage and brought out Killer Mike and El-P, there was no doubt who Pitchfork's true headliner was. The Red Stage is built over home plate of a baseball diamond. Overhead camera shots showed the crowd for Run the Jewels stretching from that stage's lip all the way to the backstops of an abutting diamond. Water bottles were tossed in ecstasy. Fists and chains were raised without cessation. Surprise guest Gangsta Boo got feted like it was her birthday. Zack De La Reliable sprinted out for his guest verse on "Close Your Eyes (And Count to Fuck)" in a Bad Brains tee and you'd've sworn it was 1997 out there. But all the love was reserved for Jamie and Mikey, whose RTJ2 tracks were built for this kind of moment in the same way that Arcade Fire were writing for stadiums when they still lived in a Montreal basement. And Run the Jewels gave just as freely as they received. The duo—who are the decade's best buddy team this side of Rust and Marty—gave love to Boots (who was on stage for his "Early" chorus), they gave love to the Stanley Cup champion Blackhawks, they gave love to "all the good cops." And after they finished with RTJ2 closer "Angel Duster," Mike casually sailed his White Sox cap into crowd. FL