Chance the Rapper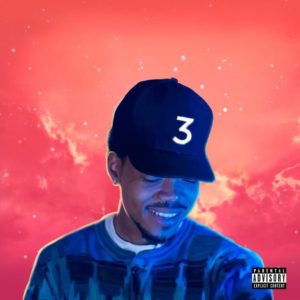 Coloring Book
SELF-RELEASED
9/10
If you have any lingering doubts that Chance the Rapper is on top of the world right now, consider: he has relegated Kanye West to the role of hook singer. First on Kanye's own "Ultralight Beam," which was seemingly built around Chano's world-beating verse, and now on Chance's "All We Got," the opening song on his stunning new mixtape Coloring Book. And not only that—Yeezy seems delighted to stand in the shadow of his fellow Chicagoan. Check the grin on his face at the Life of Pablo–supporting SNL performance when Chance drops a little South Side lingo; "now they wanna hit me with the woo-wap da bam," he says, and Kanye loves it so much he has to lean on The-Dream for support.
Chance knows where he stands—Coloring Book's cover does show him staring down into an ultralight beam, after all. But the view from 79th St. is different from that at the lip of the CN Tower. Coloring Book isn't a catalog of cultural and personal triumphs, nor is it built on the quasi-humblebrag of demonstrated self-awareness. "Man, I swear, my life is perfect," he raps during the ascent of "All We Got," but that declaration follows him proclaiming that his "daughter couldn't have a better mother" and demanding that her future lovers treat her with respect. It might be putting it lightly to say that Chance's priorities differ from those of most other twenty-three-year-olds.
Which would be cloying, really, if he weren't so good at sharing his excitement—and by "sharing" I mean in the sense that Coloring Book feels like a gift, a door open to a room full of people anxious to meet you. Like To Pimp a Butterfly, Coloring Book is seeded by Christianity, but where a sense of holy justice gave Kendrick Lamar the power to needle systematic racism and injustice, for Chance faith is a fully inhabited source of daily joy. "When the praises go up, the blessings come down," Jamila Woods sings in the hook of "Blessings," and while that sounds like a new incarnation of the prosperity gospel (the idea that God showers material goods on those who love him most, a notion so patently absurd it's hardly worth dismantling), Chance prosecutes the idea in the verse. "I know the difference in blessings and worldly possessions," he raps, "like my ex-girl getting pregnant and her becoming my everything." To receive the blessing that follows praise, then, is about a change in perspective; it's about choosing joy.
And joy, more than anything, is the animating spirit of Coloring Book. Joy spills out of Chance's words; the sound of him chuckle-threatening to give Satan a swirly is the album's essence condensed to eight syllables. But Coloring Book's big-hearted warmth spreads beyond the shouts of praise. Producer BrassTracks, who also worked on the spacious soul backing of Anderson .Paak's "Am I Wrong," turns on a faucet of voices in "No Problem," and their cascading against one another produces so much light that the glare blots out so-so verses from both 2 Chainz and Lil Wayne (though "In the streets my face a coupon" is grade-A vintage Weezy). In the Kaytranada-produced Chicago house homage "All Night," Chance doesn't seem annoyed by all of his newfound hangers-on so much as he is amused by them; he delivers that "Oh, you my cousin?" line with the same delight he reserves for the people who are singing "Sunday Candy" with him despite their not sharing a grandma. Even "Same Drugs," in which Chance channels Peter Pan via The Hold Steady's "Lord, I'm Discouraged" to catalog the ways he and a former lover have grown apart, skirts any and all paternalism and comes across as a genuine lamentation.
Despite how its creator is framing it, Coloring Book exists somewhere between a mixtape and a proper album. It's not quite for sale, but as an Apple Music exclusive (for the time being), it's not exactly free, either. It's both a high-profile showcase for Chance's talents and a platform he cedes to a dozen or so guests. It's a set of block-party-ready summer jams and a sepia-tinged acknowledgment of the inaccessibility of the past. It's a gospel record that features Young Thug luxuriating in a lotion rubdown. These are all minor defiances of outside expectations placed on Chance to be a certain way: to be an evangelist, an ethicist, a model for the future of artistic distribution, a street-hardened South Sider, the savior of some mythically pure form of hip-hop. He's none of those things, even if he passes through them all. He's not on top of the world, nor has he transcended it or beaten it. He's not even playing the game.