Jeff Tweedy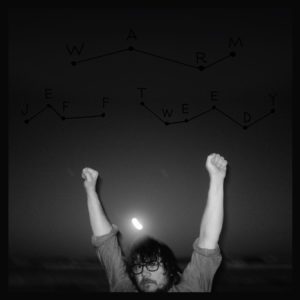 WARM
dBpm
7/10
"What I've been through should matter to you," sings Jeff Tweedy at the top of his latest solo album, WARM—and anyone who's followed his journey thus far can only nod their head in agreement. From the bitter dissolution of Uncle Tupelo to the anguished rebirth of Yankee Hotel Foxtrot and right up through the low-key larks of Star Wars and Schmilco, Tweedy and his various retinues have been through the ringer, and the Wilco frontman's typically skewed poetry has offered us an oblique vantage point to the churn. WARM accompanies Tweedy's life-spanning memoir, Let's Go (So We Can Get Back), yet it finds him looking outward as much as inward, gregarious even when his subject matter is darkest. It's not an album about what he's been through so much as an album about what we've all been through—a weathered yet buoyant reflection on shared trauma.
To call this or any other Tweedy album a solo joint is only so meaningful; he's once again recorded the set at his Loft studio in Chicago, supported by a small band of sidemen that includes Wilco standbys as well as son Spencer on drums. The album is frayed at the edges but sturdy where it counts; the guitars scrape and Tweedy's voice rasps, but even in their scratchiness these eleven songs are impressively tuneful and casually eclectic, reveling in their ramshackle energy and homespun charm. "Some Birds" is shimmering, propulsive pop, while "Don't Forget" is twangy honky-tonk. "From Far Away" dabbles in finger-picked folk, while "Let's Go Rain," with its chunky chords and boisterous group vocals, is a sing-along for the end of the world.
Indeed, on WARM, the specter of oblivion looms large—and Tweedy's not too proud to admit that he might be complicit. "All my life I've played a part / in the bombs above," he sings in the opening song. "I should have done more to stop the war." He's a little pricklier on "Some Birds," even as he acknowledges the spread of decay: "Is it my fault the countryside is so full of suicides?" he wonders. In "Let's Go Rain," which opens with a nod to Noah's ark, Tweedy's cheering on the coming floods. There's no point trying to stop the inevitable, the song seems to suggest—we can all see where this is headed. Nevertheless, we're in it together, so there's no point in not singing along.