Better Oblivion Community Center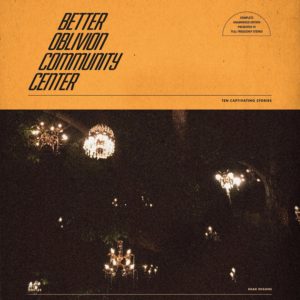 Better Oblivion Community Center
DEAD OCEANS
8/10
Even though surprise-album drops are so common they're not surprising anymore, nothing prepared us for Better Oblivion Community Center. Phoebe Bridgers and Conor Oberst are no strangers to each other—Bridgers' release of Stranger in the Alps in 2017 included a track with Oberst doing guest vocals, and they played a show at Pappy & Harriet's together in 2018—but no one was prepared for a new collaborative project, let alone a debut album from that project. With no media preparation to speak of, they released the self-titled Better Oblivion Community Center, a folk rock album that proves the two to be perfect singing companions.
Maybe we should've seen it coming. Last year, Bridgers formed the supergroup boygenius with emotional heavy-hitters Julien Baker and Lucy Dacus, embracing an Avett sisters–style of harmonizing and heartbreak. Oberst is also coming hot off the songwriting trail with his call-and-response releases of the deeply personal Ruminations and Salutations in 2016 and 2017. Now, on BOCC, both artists hone in on what they know best—themselves and their environments. As a standalone, BOCC feels like a continuation to both Stranger in the Alps and I'm Wide Awake, It's Morning, painting Bridgers and Oberst as the Romeo and Juliet of a guilt-stricken, existential self-exploration.
"Dominos" feels distinctly split in half, with part of the lyrics alluding to Oberst's standard croons of birds and better tomorrows, and the other part injecting Bridgers into the scenarios he paints with metaphorical mystery. Although Bridgers is a native to Southern California, the album meshes their styles together so effortlessly she might as well have been a long-lost relative of the '90s Omaha scene which launched her songwriting partner's career. Oberst still has his throaty trills, reminiscent of Nebraska's confessional pioneer Simon Joyner, but adding Bridgers brings a new heaviness. "My City" shows this best: While we expect Oberst to sing this way and to say things like this, hearing them from Bridgers is different. Her lyrics feel more personal, more grim than ever: "I hate you, I tore you down. I miss you, where are you now?"
Overall, Better Oblivion Community Center doesn't necessarily explore any new territory, but it does unite two people who feel the same way, and are able to explain this feeling in undeniable harmony. It's haunting, it's sad, it's human. Maybe that's the point of the group. Misery loves company, and with BOCC, this camaraderie finds a center.