Hayley Williams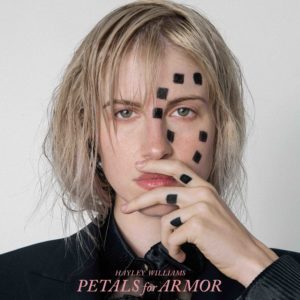 Petals for Armor
ATLANTIC
8/10
"Don't nobody tell me that God don't have a sense of humor," sighs Hayley Williams, just a few minutes into her solo debut. The Paramore singer couldn't have known how those words would land when she first wrote them for Petals for Armor, an album doled out in EP-sized increments and then finally released in its totality amidst the COVID-19 pandemic. On the one hand, circumstances are obviously far less than ideal. Then again, what a weirdly fitting backdrop for an aspirational album that's all about plucking joy and strength from a season of darkness. Sound familiar? What can you do but laugh?
It is highly likely that Petals for Armor would have made a big splash even without God's viral marketing assistance. Paramore was always that rare band that could get their songs onto the charts while still winning the favor of critics who could appreciate their pairing of tart lyrics with bubbly melodies. And while the band always packed muscle, few would quibble that Williams was their center of gravity; it's telling that their best work, a self-titled album from 2013, was recorded with studio hands after half the band handed in their papers. And now, the snake eats its tail; Petals for Armor was made by Williams with a number of long-time Paramore confreres, and at times there's just enough live-band muscle to make it sound like she's gotten the band back together. 
But for the most part, this is pop opus by way of self-actualization journey; you can read Williams' press to find out about the divorce and depression and intensive therapy sessions that yielded these songs, but you can also fill in most of the blanks just by listening closely to the lyrics. Petals for Armor is an album that articulates great emotional intelligence: Opener "Simmer" is about owning and channeling your rage; "Cinnamon" about remaking your space following a break-up and reveling in femininity; "Dead Horse" about reckoning with the fact that you've stayed in a toxic relationship far too long.
The best song on the record is "Roses / Lotus / Violet / Iris," where Williams is joined by boygenius luminaries Phoebe Bridgers, Lucy Dacus, and Julien Baker to adjudicate the history of female trauma through a deft horticultural metaphor. The presence of these singer/songwriters suggests the kind of emotional rawness Williams is aiming for, a nervy honesty that the lyrics conjure but the arrangements sometimes dilute: Petals has a mainstream ambition that smoothes over some of the rough edges, keeping the upbeat songs from being as frantic as they feel like they should be while guarding the slow ones from anything too disconsolate or morose. But more often than not Williams overcomes this with the same tricks that served her so well in her frontwoman days: Pungent lyrics dropped into perky production, rhythmic feints toward rock and reggae that cause Williams' pop to bristle and bounce.
That Williams makes music of such candor and character while working within formal constraints (fifteen songs in fifty-five minutes!) validates the album's central contradiction: How it goes so deep while stubbornly resisting the idea that women owe us something confessional in order for us to take them seriously. Check "Watch Me While I Bloom," a late album disco banger that's all low-end theorizing and coy finger-wagging: "You wanna look inside of me / And just watch me bloom," she sings, a perfect dancefloor confection amidst beguiling interior monologues. On Petals for Armor Williams is in full blossom, telling her story without requiring our permission. As her former band once put it: Ain't that fun?