Coachella Valley Music and Arts Festival 2015, Weekend 1
April 10–12
Empire Polo Club
Indio, California

In what has become an indisputable fixture to the Indio landscape—just like Joshua trees, hallucinogenic trips, wind farms, and drought—the Coachella Valley Music and Arts Festival welcomed the nomadic masses to the desert for the opening of its sixteenth incarnation over the weekend. As the event has grown in the past few years—first to three days, then to two weekends—so too has the experience. This year, there was more art, more connection, more food and drink, more interaction, and a more varied festival than ever before. Coachella offers, truly, something for everyone, whether you're after an Avery over a Heineken or Cuban Linx rather than Aja.
Below, a weekend report on some of our favorite acts from Coachella weekend one.
---
Friday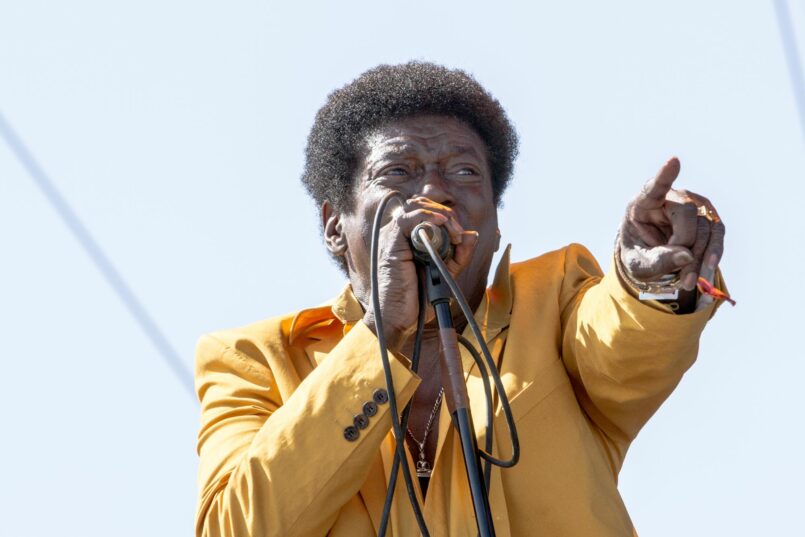 Charles Bradley and His Extraordinaires
"I believe in real love!" Charles Bradley seems like he was born doing this, and odds are he was; though the sixty-six-year-old is only on his second record, the showmanship of the Daptone soul man's midday main stage set evoked the memories of legends past, preaching simple living and charitable love. Backed up by His Extraordinaires, Bradley roamed the stage through two costume changes (one of which was dismantled piece by piece) and a flirtatious set that ended with the singer gathering up a large bouquet of white and red roses to hand to the roused ladies and gentlemen in the front row.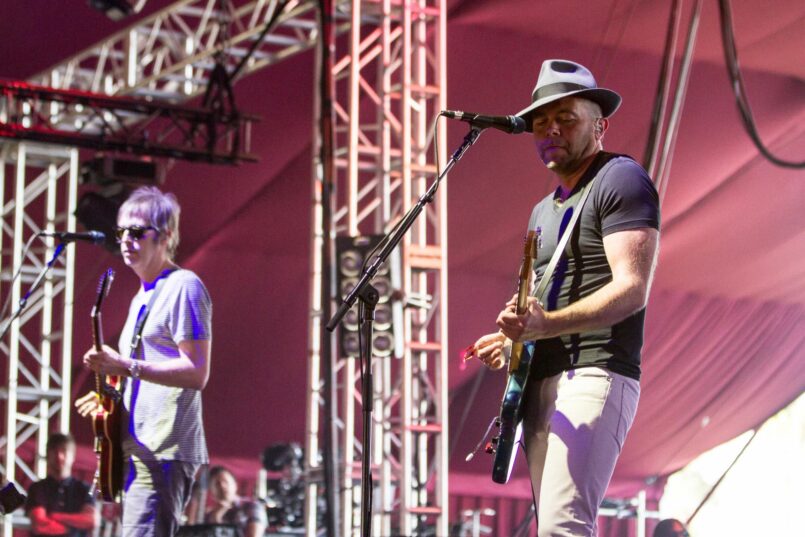 Ride
The recent revitalization of Ride has come with two intimate, lauded reunion performances—one in their native Oxford and another in Los Angeles at The Roxy—but Coachella was undoubtedly the band's highest-profile slot since reforming. Whereas their contemporaries My Bloody Valentine deafened the masses in an enormous, high-profile nighttime main stage blow-out in 2010, Ride laid low with a solid, satisfying late afternoon set in the fest's smallest tent. The setting suited the foursome (chandeliers and crimson fabric was the Gobi's costuming this year) as they played through their catalog, including "Drive Blind" and "Vapour Trail" from 1990's Smile and Nowhere, respectively. It may not have been the exalted affair of some Coachellas past, but for the crowd present, it was definitely just as special.
Read our feature Dreams Burn Down: The Rise and Fall of Ride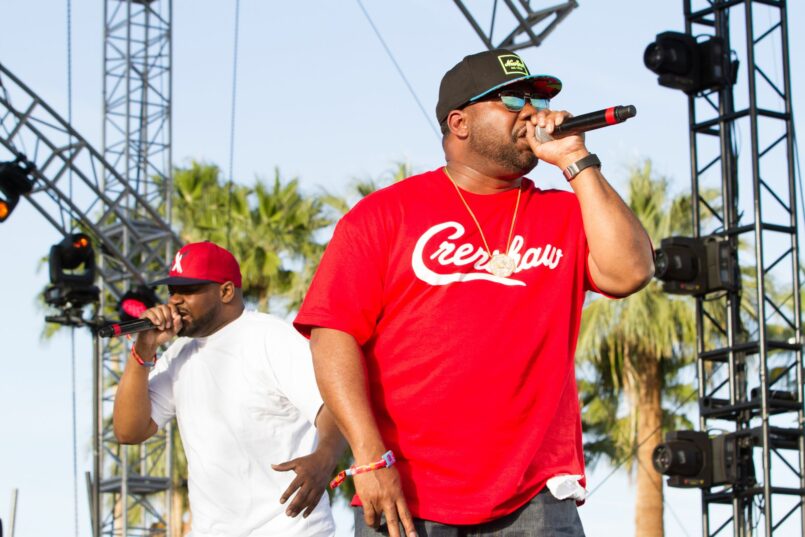 Raekwon and Ghostface Killah
In the aftermath of the mess of Wu-Tang's last record, A Better Tomorrow, it was a gift to be reminded current of the raw talent of its members in real-time. Raewkon, performing his 1995 solo debut Only Built 4 Cuban Linx… alongside Ghostface Killah (who easily outshined his collective with last year's 36 Seasons), was an invigorating revelation on the Outdoor Theater. Inciting the crowd—Ws in the air—through the album's sample-heavy production and trading verse for verse, Raekwon and Ghostface gave the kind of unique performance that one expects from the festival's expert curation (but that doesn't always manifest itself). Perhaps the Wu-Tang should divide and conquer more often.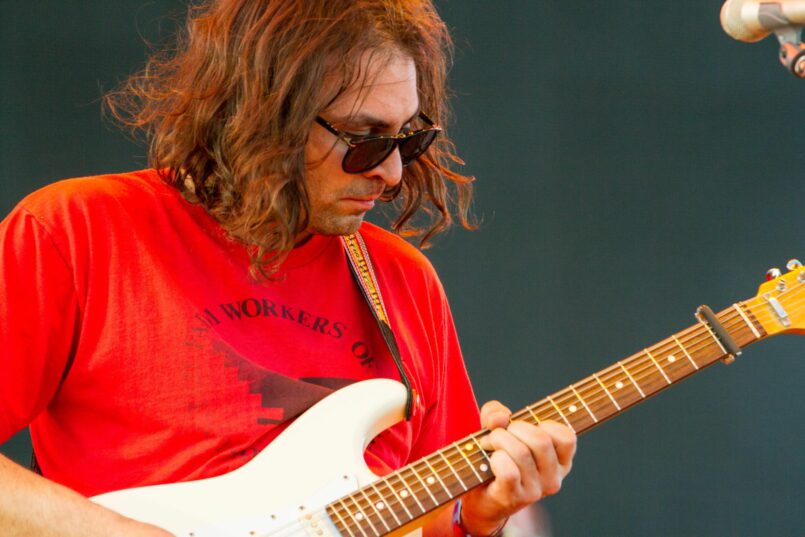 The War on Drugs
Playing the golden hour main stage slot on day one (as if there was any other time the Philadelphia jammers could have performed), one wished The War on Drugs could have met the magic of the time of day at least halfway. Though the band reached a magnificent music pinnacle on its last record, the melodic chromatics of Lost in the Dream standouts "An Ocean In Between the Waves" and "Burning" refused to materialize during the Coachella sunset. Instead, lead singer Adam Granduciel's indifferent energy translated into a snoozy, meandering set that was in no way terrible, but was somehow sort of even worse—it was wanting.
Steely Dan
"We're still here, and we've still got it!" In contrast to War on Drugs, the spry energy of Donald Fagen and Steely Dan would have made the sunset glow even brighter. Your dad's favorite band showed the young'uns how it's done with an early evening set at the Outdoor Theater that packed in eager Coachella chaperones—and twentysomethings who couldn't decide if they were being coolly ironic or sincerely unaffected. Walter Becker ranted off-course for a little while about something indecipherable, but made up for it by playing "Aja," "Josie," and "Reelin' In the Years" (but no "Peg"). Cynicism be damned, Steely Dan, I run to you.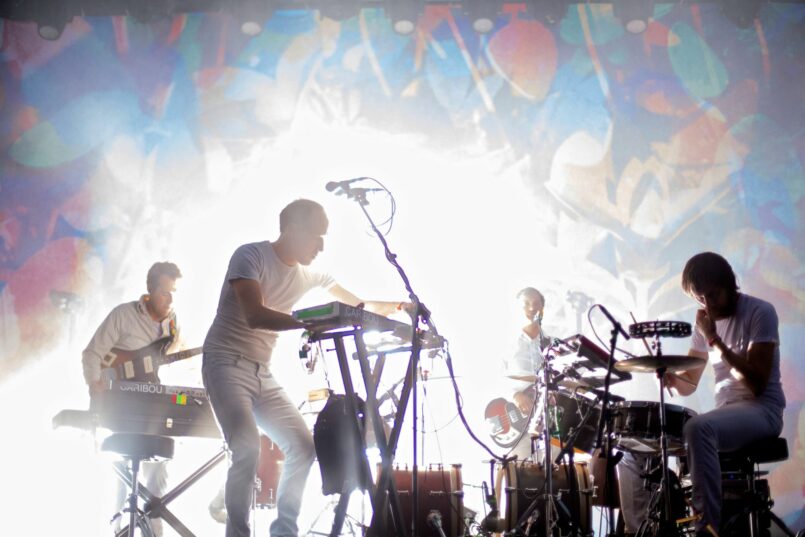 Caribou
As nighttime creeps into the polo fields, the tents harness a kind of inviting magnetic effect—and, no, it's not just the lasers. Come to us and dance, they beckon. Following these instincts always rewards, but on Friday night a new standard was set with Caribou's Mojave stunner. On record, Dan Snaith is a master manipulator of synthetic sounds, transforming simple repetitions into electronic symphonies. Live, Snaith one-ups even himself accompanied by a masterful live band that, together, imply an improvised air with brilliant results. Bookending his set with Our Love's title track and Swim's "Sun," Snaith launched into a Coachella performance for the ages, enveloping the packed crowd in a gauzy trance that hasn't quite faded even yet. The wonderful catch? A Caribou show does this every time.
Read our feature Caribou: Feeling The Love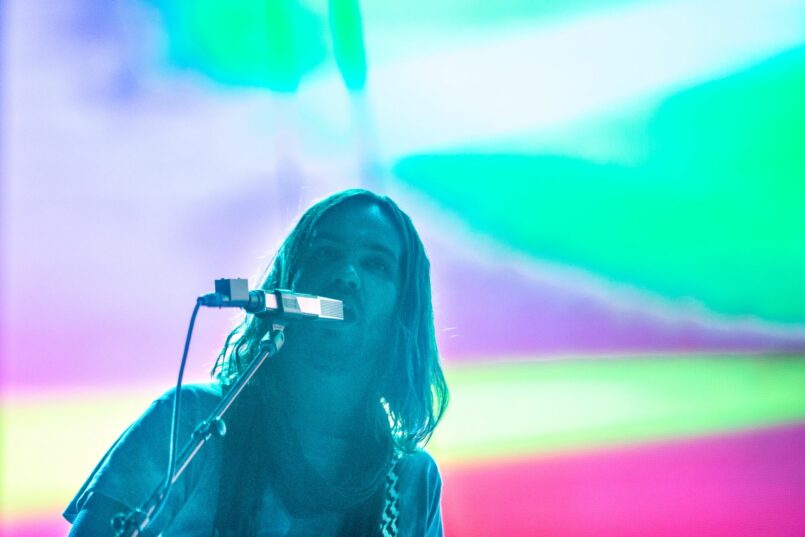 Tame Impala
The mostly solo project of Kevin Parker, Tame Impala is currently promoting an upcoming (and highly anticipated) new record, which means, beyond the band's normal devoted following, even more eyes were on the psych-rock outfit as they appeared on a huge slot on the main stage effectively "opening" for fellow Aussies and Coachella headliners AC/DC. Admirably, Parker and the band confessed to nerves, though it didn't affect the output. Playing two singles from the forthcoming Currents—"'Cause I'm A Man" (only their second time playing it live) and the is-this-record-broken? "Let It Happen"—the band made a decent argument for the championing placement, playing new material seamlessly woven in to their other two records. Wonder how Interpol felt about it, though.

Saturday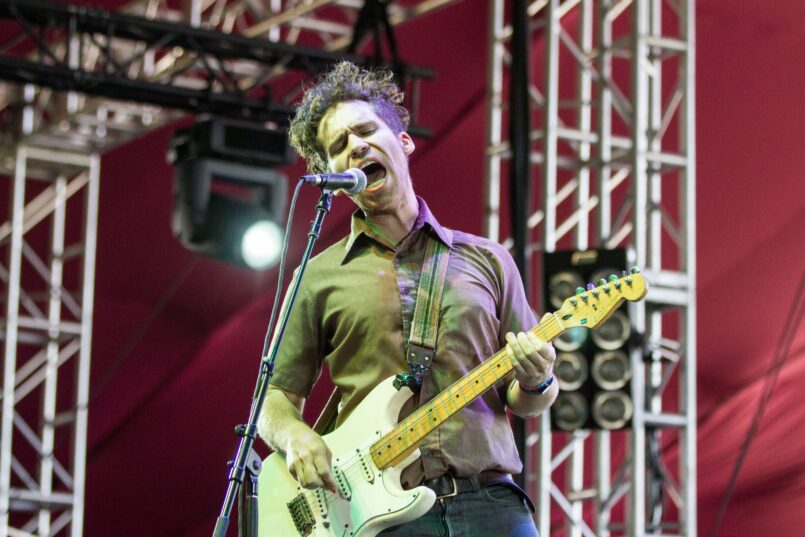 Parquet Courts
Parquet Courts go down like shotgunning a cold beer on a summer day. Which is to say, they'll get you messed up—fast. The cool shelter of the Gobi tent was no containment for the energy or attitudes of the New York City quartet. "Hey, California, real sorry to hear about your water supply," cracked frontman Andrew Savage. "Just keep partying—you'll forget about it. 'Til next year." Sneering and sweating through fast-paced songs, the band was an early afternoon wake-up, an intoxicating swallow whose effects were residual. Without the headache, though.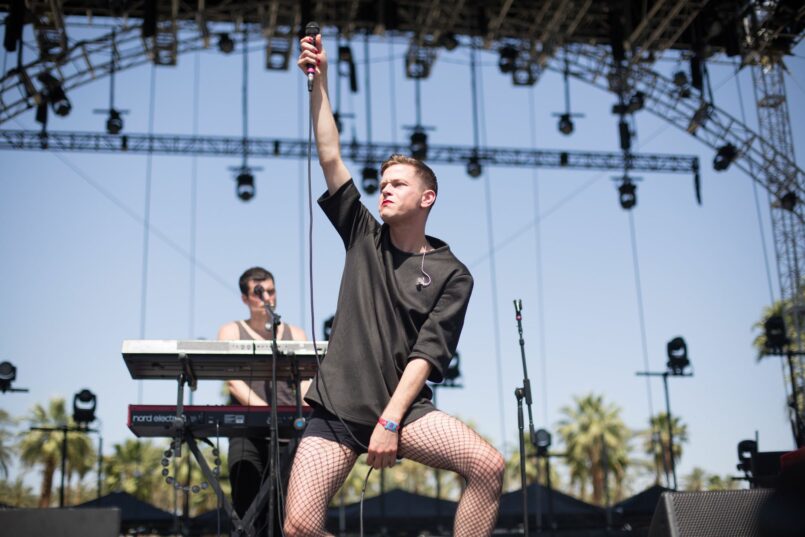 Perfume Genius
Mike Hadreas did not belong performing at two o'clock in the afternoon. Still, the evocative provocateur did impress, opening his set with distortion before settling in at the piano for a heartbreaking two-punch to the gut of "Learning" and "Mr. Peterson." The emotional wrenching was somehow even more uncomfortably effective in the heat, though Perfume Genius's set would have benefited in attendance and atmosphere in a cooler slot. Still, Hadreas is a gifted and passionate—two things that make an impact no matter the place.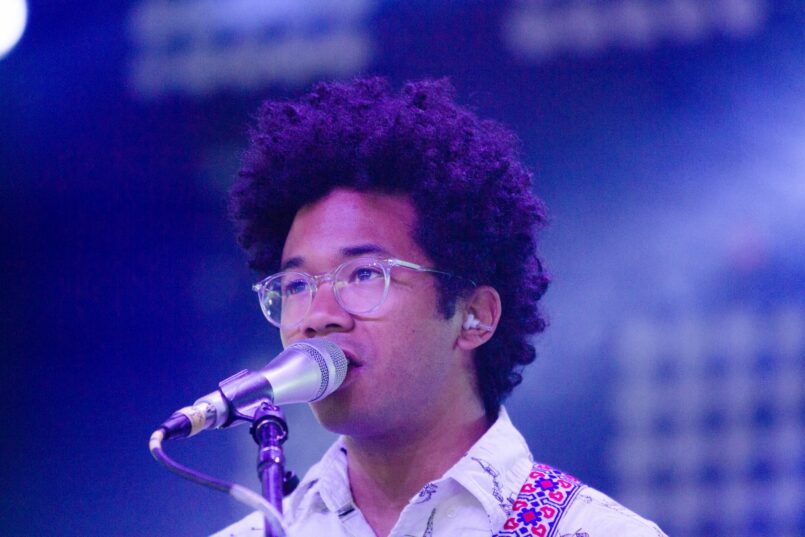 Toro Y Moi
Chaz Bundick is on yet another trajectory in his ever-evolving Toro Y Moi project. With Les Sins apparently taking up the majority of Bundick's explorations into dance, the newest set of material by Toro Y Moi, his latest record What For? (supported here with a full live band), veers away from the excellent hints of disco heard in his stellar live show two years ago and is replaced now with bland, lackluster '60s pop. Bundick is enormously talented and variedly so, and while this new direction and sound deserves enthusiastic praise for the experimentation, the results compel decidedly less.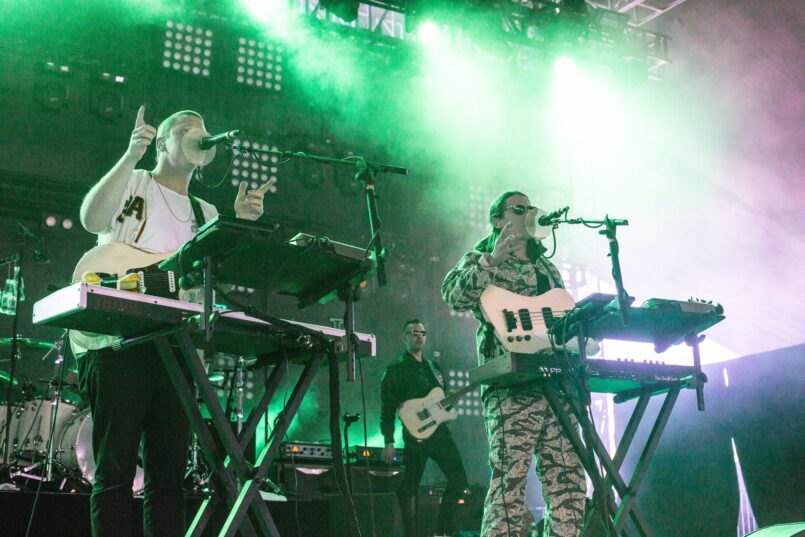 Jungle
Last year, Jungle's debut LP moved hearts, minds, and hips to a refreshing, smooth throwback take on soul and pop, and this performance at Coachella not only matched the precedent set by the record—it elevated it to a new high. Tom McFarland and Josh Lloyd-Watson were in top form, flanked by back-up singers Rudi Salmon and Andro Copperthwaite, opening Jungle's set with the syncopated soul of "Platoon" into the undulating anthem "Julia." With a breakout album brimming with hits, the English septet had an easily outstanding set of songs that enraptured the packed Mojave tent, washing a cool air over the rest of the afternoon.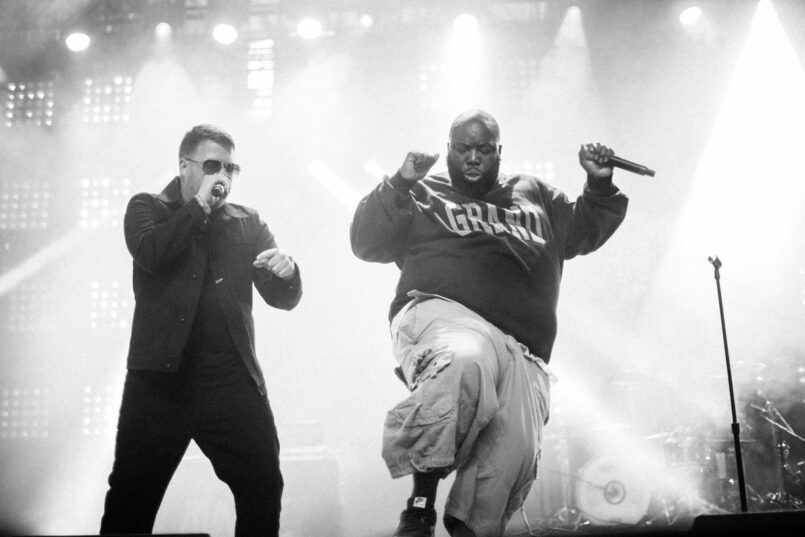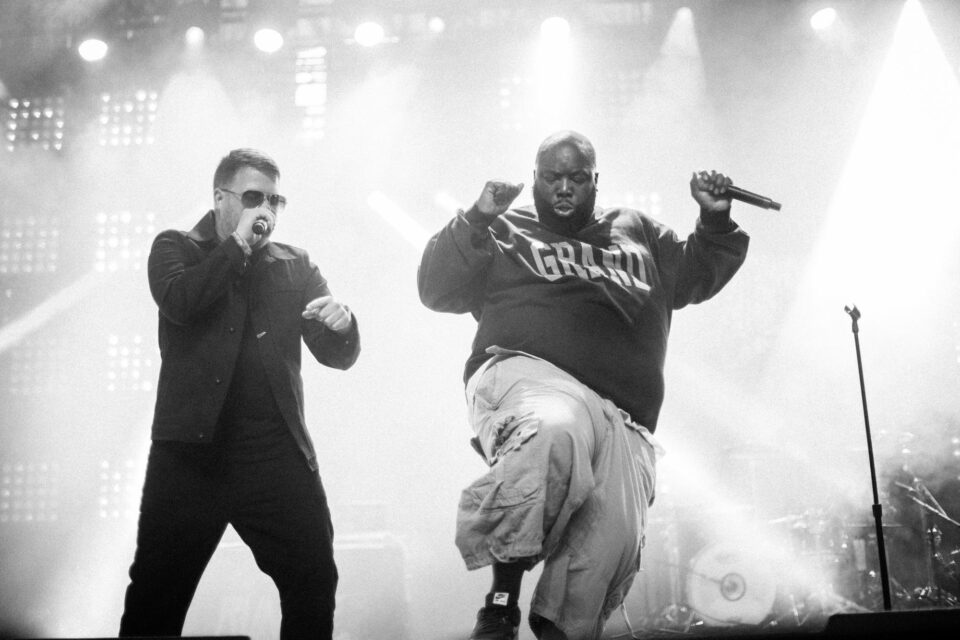 Run The Jewels
Run The Jewels' appearance at Coachella proved that there are still some places left for the dynamic duo to conquer. Filling the Mojave tent to capacity, the crowd thrashed and raged alongside Killer Mike and El-P, who unleashed more guest appearances than any other Coachella set (looking at you, Drake), bringing out Travis Barker for "All Due Respect," Boots for "Early," and Zack de la Rocha for "Close Your Eyes (And Count To Fuck)." The raw energy was unsurpassed by any other set over the course of the weekend; they truly are the champions.
Read our cover story Kitten Kaboodle: El-P and Killer Mike Meow The Jewels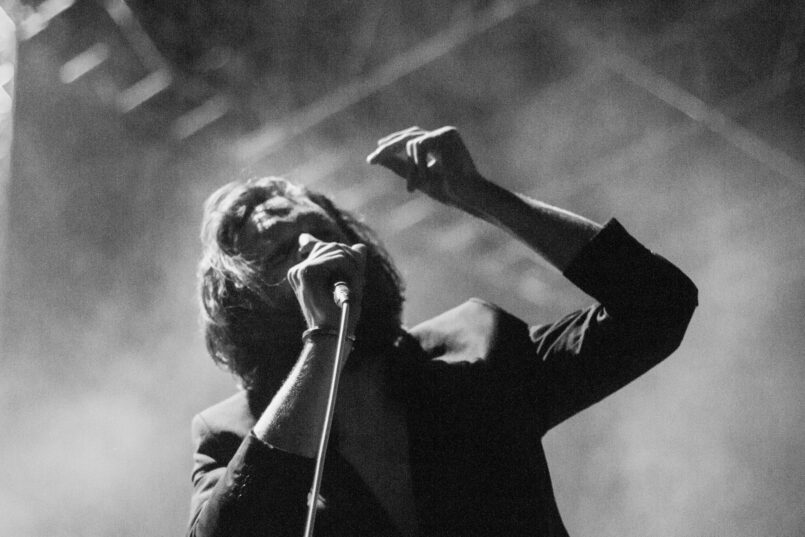 Father John Misty
In what was absolutely Coachella's most bizarre set, Father John Misty lit up a giant neon heart sign emblazoned with the words "No Photography" (it should be noted that Josh Tillman—or his management—did, in fact, allow photographers), which flickered on and off throughout the performance. "Thank you, beautiful babies," Tillman addressed the crowd before launching into I Love You, Honeybear's "When You're Smiling and Astride Me." "I'd like to get real intimate real fast." That he did, mixing in a now-trademarked brand of Father John Misty self-deprecation, sensuality, and humor in between songs that contained the same. "The world must dance," Tillman offered, as Alt-J's synthy main stage set and thudding beats from the Sahara bled into his. "This one brings the house down," he acknowledged sarcastically before "Bored in the U.S.A." Part stand-up, part concert, part game show (cue in "Amy," who was brought to the stage and serenaded by Misty, in between a huge balloon archway and masked, naked Eyes Wide Shut lookers-on), this wasn't Tillman's first time out at the rodeo—but he certainly seemed to have mastered it.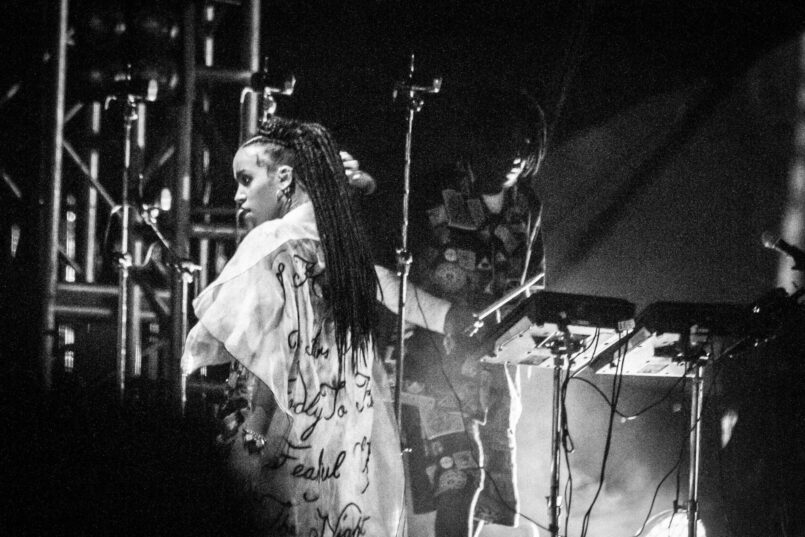 FKA Twigs
FKA Twigs was one of the most highly anticipated, buzziest acts of the weekend, and Tahliah Barnett did not disappoint the huge audience that came to welcome her to Coachella. The English chanteuse oscillated powerfully, fluidly, to wild, enthusiastic screams from the crowd as she performed songs from her debut LP1 under a single spotlight in the Mojave tent. The mid-set-delivered "Water Me" was an especially hypnotic dram—wonderfully appreciated, but as if the Coachella tents needed more doses.

Tycho
Tycho offer up transcendent, multi-sensory experiences—regardless of whether or not you happen to be at a live show. The music of mastermind Scott Hansen, guitarist Zac Brown, and drummer Rory O'Connor is only one facet of the band's modus operandi; the soundscaping arrangements are complemented by artwork—graphic designs and photography—by Hansen that depict places that are neither real nor imaginary, but rather an otherworldy mix. They are beautiful, however, and so was the evening Mojave performance by the San Francisco band. With gorgeous oranges and purples rising and fading behind the band, they played through Tycho's last two records, including last year's excellent Awake, to a receptive and reverent evening crowd.

Ratatat 
It's been a minute since we've been graced by the dueling guitars of Ratatat (their last record was in 2010, their last Coachella performance in 2011), and while the music scenes has undeniably shifted further and further away from the height of the mid-aughts in which electro-rock production ruled, the insane audience that awaited in the Sahara tent for Mike Stroud and Evan Mast spoke volumes. Matching the pitch, Stroud and Mast took the stage in a blaze of electric glory. Dense waves of fog and smoke encapsulated the duo as they traded off licks and riffs like the icons they are. Premiering a few new songs, including "Cream on Chrome," the duo also indulged in "hit single" (if Ratatat has such things) "Seventeen Years," which sent the masses off into the dark night a bit more neon than they had come.

Sunday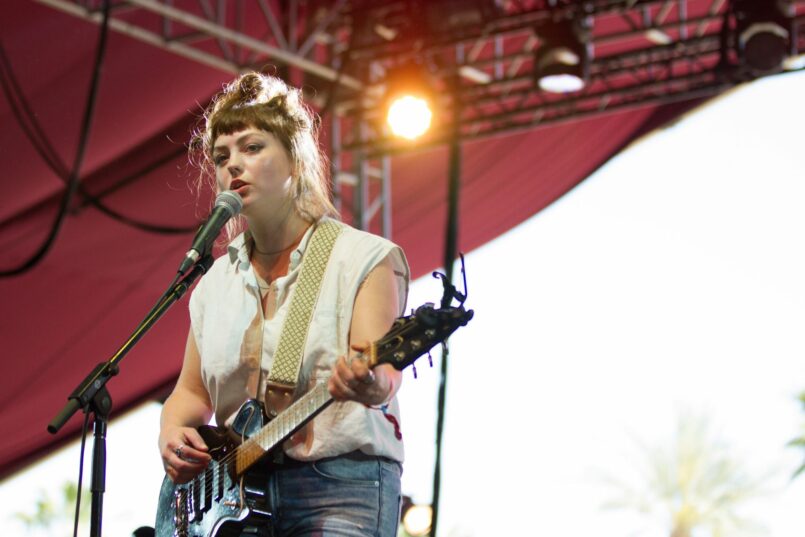 Angel Olsen 
A few songs in, Angel Olsen abashedly confessed to having to Google her lyrics, but confessed the fan-penned submissions were usually "just wrong, man." All smiles, the twenty-eight-year-old guitarist was alluring in the early afternoon sunshine, shaded generously, of course, by the Gobi tent. One of the most straightforward (and straightforwardly terrific) sets of the weekend, Olsen played her strengths, which in this case were songs from her wonderful 2014 LP Burn Your Fire For No Witness. No gimmicks are needed when you're this good, and Olsen was a refreshing reminder of that fact.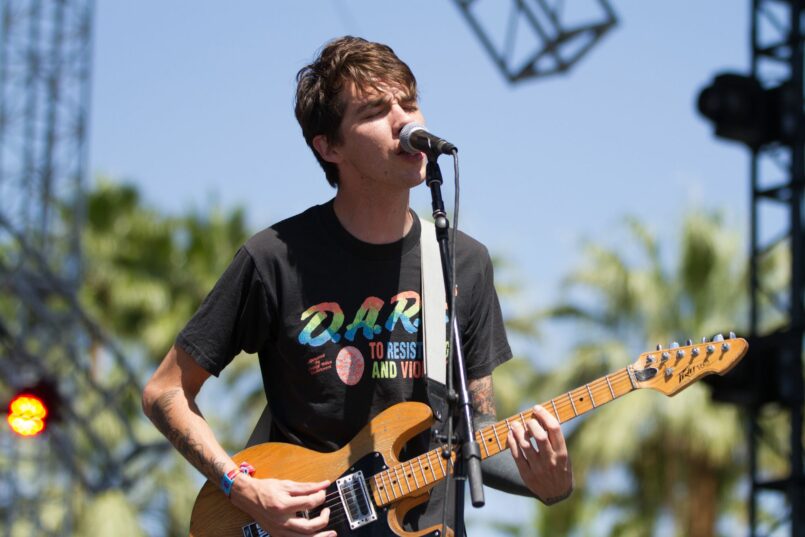 Joyce Manor
Playing nearly the same time as Perfume Genius's Saturday slot, Joyce Manor offered up the same explosive emotion but rather than tensely contained, the Torrance band bled it out freely. "Catalina Fight Song" and "Falling in Love Again" were calls to the mosh pit to cathartically purge alongside the band. Johnson confessed the band had taken warm tequila shots and were jokingly now on "a spirit quest," but sometimes that's exactly how the music Joyce Manor feels to us, too.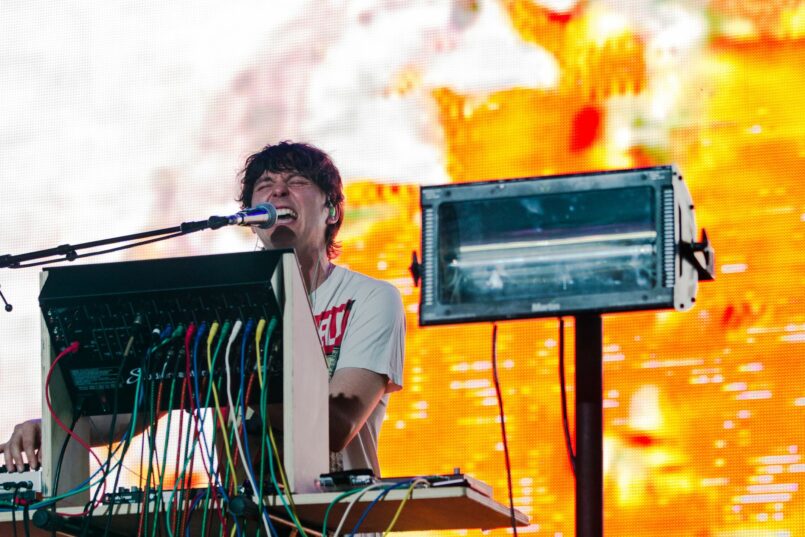 Panda Bear
Why on earth was Panda Bear on at 2:55 in the afternoon, again? Regardless, Noah Lennox turned in a positively fantastic and awesomely dizzying performance, opening his set with Tomboy's "You Can Count On Me" from behind a production desk spouting a mess of colorful auxiliary cords. Behind Lennox, visuals by frequent collaborator and visual artist Danny Perez coursed through one another, winding around and inside colors and images, rapidly changing and adapting fluidly to Lennox's music. Grim Reaper and Mr Noah EP cuts made up the rest of the set, with "Boys Latin" and "Butcher, Baker, Candlestick Maker" stirring the crowd into an elevated state while "Crosswords" and "Sequential Circuits" mellowed the mood, bringing everyone back down to earth all over again. Seeing the record played live in this way, the varied emotions and moods of Panda Bear's music not only connected deeper, they translated into an entirely new multimedia experience.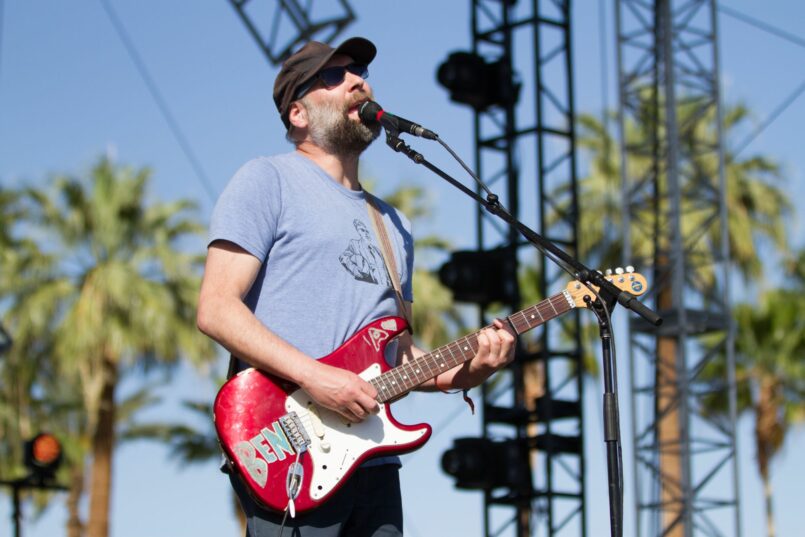 Built To Spill 
Doug Martsch and Built To Spill have been at this for a while, but with the release of an great-sounding eighth LP (their first since 2009's excellent There Is No Enemy), the band continue to inspire with each successive release. Donning sunhats and sunglasses on the hottest day of the festival, Built To Spill turned in a great, if not super exciting performance, playing crowd favorites "Goin Against Your Mind" and "Carry The Zero." Still, the band (anchored by longtime members and guitarists Brett Netson and Jim Roth) are one of the best jam bands when they go electric, and it's a pleasure to watch Martsch wield that Strat anytime.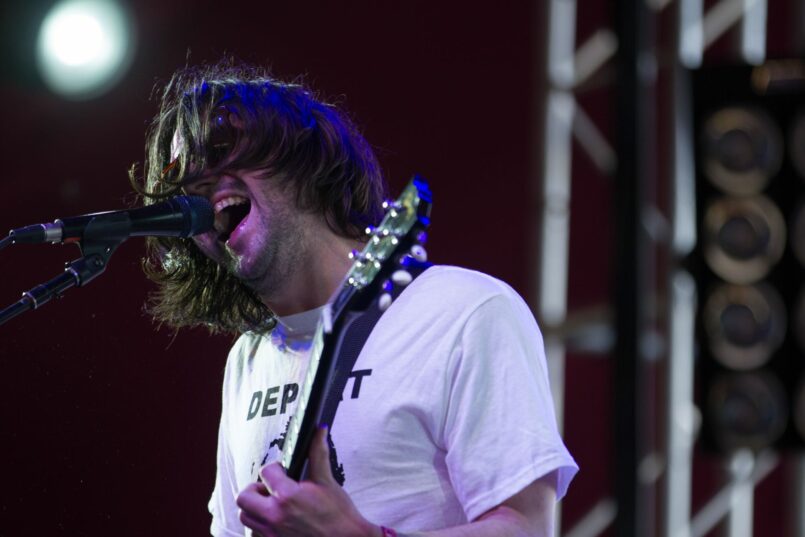 Desaparecidos
Conor Oberst's other other project, the long-defunct, now-revived Desaparecidos turned the bass up to eleven and nearly drowned out every other stage from their performance in the Mojave tent on Sunday. Denver Dalley and Landon Hedges slayed their guitars, while Oberst growled into the mic through roughed-up vocals. For unwise fans of the Mystic Valley Band, Desaparecidos must have come as a shock—hopefully coupled with a dose of awe.
Ryan Adams
"Yay, sad music in the desert!" Ryan Adams did indeed deliver on that declaration for his evening Coachella set. Adams culled deep from his lengthy and excellent discography, including "Let It Ride" (from Cold Roses), "The House Is Not For Sale" (from Love Is Hell, Pt. 1), "When The Stars Go Blue" (from Gold), and newest singles "Stay With Me" and "Gimme Something Good" (from his recent self-titled record). Near the end of his set, the bleed from Kaskade's main stage began to overwhelm, but Adams pressed on, finishing with the forlorn "Come Pick Me Up" (from Heartbreaker)—one of the most devastating in Adams's catalog, and that's really saying something. Sad bastard music reigns.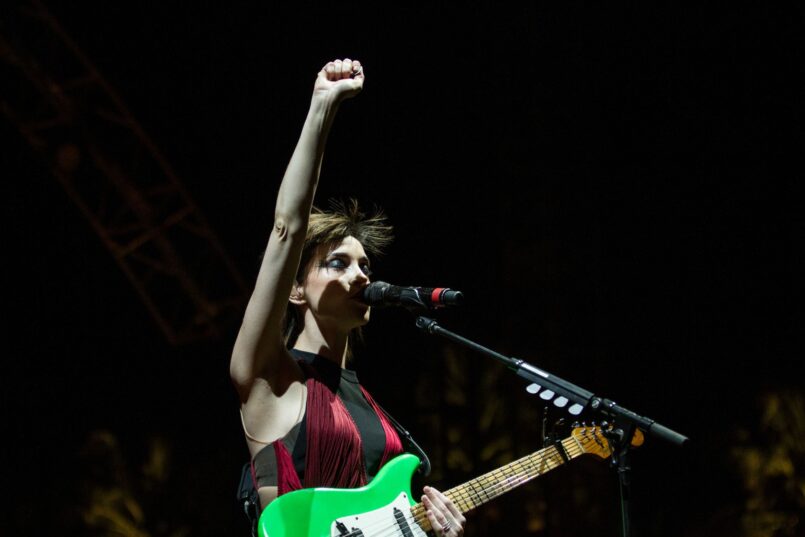 St. Vincent
Annie Clark has a brand-new hairstyle, but everything was business as usual for St. Vincent as she dominated the Outdoor Theater evening with a solid set of tunes from her newest record, last year's St. Vincent (including "Rattlesnake," "Birth in Reverse," "Digital Witness," and "Huey Newton"), while also pulling out Strange Mercy's "Cruel" and "Cheerleader." Under sparse lighting, Clark was a siren in the darkness, giving her crowd a performance that served as a proper warm-up for the next act on the main stage.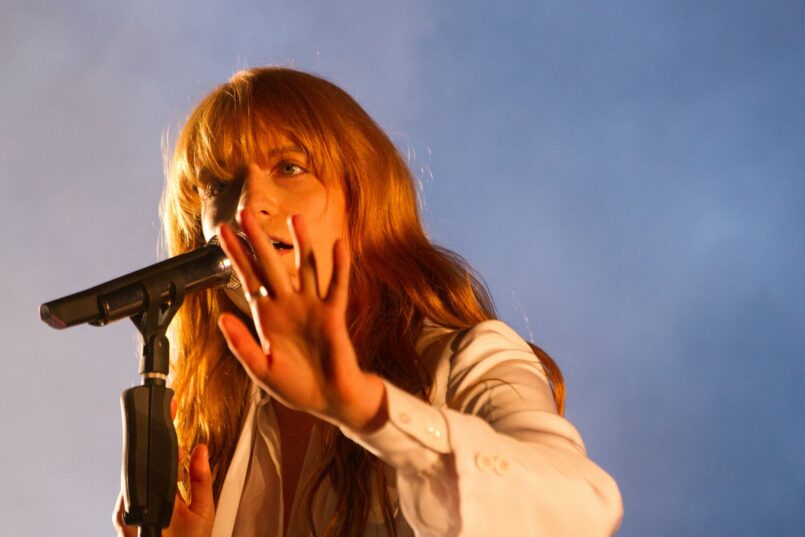 Florence and The Machine
Florence Welch is a vision, a goddess in a white pantsuit given to us by the heavens. Though Florence and The Machine's set was a relatively short one, the twenty-eight-year-old took advantage of every moment, skipping and dancing barefoot from each length of the mainstage and back again. Opening with "What The Water Gave Me," new single "What Kind of Man" launched the set straight upwards into into the starry sky. After a cover of Calvin Harris's "Sweet Nothing" (for which Welch guest-vocaled on the original), she turned back to her highly anticipated new record How Big How Blue How Beautiful by playing the title track, telling the audience that the title was inspired by the Los Angeles sky. How appropriate to give back to where you came from, Florence.