Andrew Bird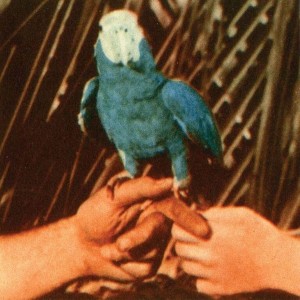 Are You Serious
LOMA VISTA
7/10
There are certain ironies involved with this new album by Andrew Bird. His ninth record of original solo songs (and thirteenth overall), it follows 2014's Things Are Really Great Here, Sort Of…, an album of Handsome Family covers, and last year's experimental instrumental work, Echolocations: Canyon, which the Illinois-born musician recorded inside Utah's Coyote Gulch canyons. The first irony, given Bird's penchant for grandiloquent imagery and hyper-intelligent songs, is the lack of a question mark in the title. It's not asking if you are serious, but more an uncertain affirmation that that's the case. But then, that's also ironic, because Andrew Bird is often considered that most serious of serious things—a musician's musician. After all, the guy doesn't just play guitar and violin and use loops, but he's a professional whistler, too. Yet, as has been the case with all of his albums to date, there are elements of humor here as well. That's most evident on the self-aware "Left Handed Kisses," a duet with Fiona Apple that not only subverts the notion of the typical love song, but deconstructs it, examining the role and intention of love songs in the context of love itself. It's a playful and intelligent track that operates on many different intellectual and emotional levels. In other words, it's Bird to a T.
Yet to some extent, this album is anything but business as usual. Yes, there's whistling and baroque-pop arrangements on the likes of "Saints Preservus," and there's the gentle folky lilt of "Chemical Switches" and the jittery, uplifting "Puma," but Are You Serious also offers Bird's most conscious foray into the realm of pop music to date. Of course, Andrew Bird's version of pop is very different from anything found near the top of the Billboard chart, but opener "Capsized" is nevertheless a full-bodied tune shot through with an infectious groove and an instantly hummable, memorable melody. "Roma Fade" is a similarly sumptuous song that wouldn't feel out of place in a playlist between Local Natives and Arcade Fire, and "Valleys of the Young" is a luscious, lavish, and beautiful song that ruminates on the perpetual personal tragedy that infiltrates human existence from the moment we're born. It's music, then, that could easily exist within the limited confines of the mainstream, but "Hello" this is not.
Overall, Are You Serious does represent a seismic shift in Bird's musical tone, but it does so while keeping the musician's very distinctive characteristics intact. Perhaps the only point at which it doesn't fully work is on "Truth Lies Low," which adopts a somewhat bland, smooth-jazz tone that, to some extent, sounds like everything Bird isn't until it fades out with an unremarkable, muted whisper. But then, perhaps that's the very point, because in doing so, it becomes a meta version of your average pop song. Intentional or otherwise, it doesn't detract too much from the record as a whole. As such—and as you'd expect from Bird—this is a record that requires thought and consideration, but it gives much more back in return.