BADBADNOTGOOD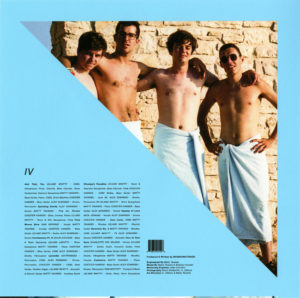 IV
INNOVATIVE LEISURE
7/10
There's a scene in the 2014 documentary JACO in which drummer Lenny White describes a sea change that occurred in the late '70s. "The so-called jazz police were having fits," White says. "These same people who were going to Ozzy Osbourne concerts were now coming see Return to Forever and Weather Report." There was a new kind of jazz in the air and people who wouldn't normally self-identify as jazz heads were catching on, lured in by virtuosic shredding and bounding energy. In the last half-decade or so, a similar crossover has been made by artists like Robert Glasper, Thundercat, Kamasi Washington, and the Toronto quartet BADBADNOTGOOD, who've brought a new kind of fusion—mixing electronic music and hip-hop with spiritual jazz and funk—to young, massive festival crowds. The gap dividing jazz and hip-hop may be narrower than the one between heavy metal and Chick Corea, but a new brand of jazz has been gaining traction with a young audience that isn't beset by ideas of what the genre should be.
Formed in the music department at Humber College, BADBADNOTGOOD (keyboardist Matthew Tavares, bassist Chester Hansen, drummer Alexander Sowinski, and saxophonist Leland Whitty) earned attention for their rap-leaning chops, covering material by Waka Flocka Flame, A Tribe Called Quest, Kanye West, and Odd Future. IV, the band's fourth (duh) album, follows collaborations with Tyler, The Creator and last year's full-length Sour Soul with Ghostface Killah, and those recordings clearly influenced the new LP. It's the best example yet of the combo's ability to synthesize their influences—spiritual jazz, fusion, hip-hop, avant-garde, psychedelia—and like their work with Quebec DJ Kaytranada (they played on his breakthrough album 99.9%, and he's featured here on the throbbing "Lavender"), it's assured and confident.
Which isn't to say IV is necessarily cohesive, but the genre-hopping approach works just fine, and the curatorial instincts on display feel right on. Alt-R&B vocalist and fellow Torontonian Charlotte Day Wilson sounds commanding over the sweeping, Gainsbourg-esque "In Your Eyes," and Future Islands frontman Samuel T. Herring lends a soulful ache to the band's slow-jam workout on "Time Moves Slow." BBNG can be as heavy as they are nimble, too: "Confessions, Pt. 2" finds bass saxophonist Colin Stetson, who is known for his own blending of classical music and black metal, leading the group through a strutting burner, the force of the combined quintet flexing mightily. The nods to hip-hop are mostly rhythmic (think Guru, Dilla, Madlib) but Chicago rapper Mick Jenkins rhymes on the electric "Hyssop of Love," and the results suggest he should be watched closely, like his Chicago buddies Chance the Rapper, Vic Mensa, and Joey Purp.
Guest spots aside, IV gleams. "Speaking Gently" is propelled by Hansen's proggy bass work; "Chompy's Paradise" sways with a stoned ease. On the title track, the band embarks on a classically minded fusion jaunt, all electric piano, locked drums and bass, and questing sax runs. It's different, sure, but it suggests that the panoply of sound on IV comes from a place of knowledge and tradition. It might even be enough to win over the jazz police.