Just like a Broadway run of Cats, we've returned, and we're bringing a couple of familiar faces with us. We're pleased as punch to announce FLOOD 5, our latest print issue, featuring cover stars Daveed Diggs and Angel Olsen. Click here to buy your copy, here to read or download the Daveed Diggs side, and here to read or download the Angel Olsen side. And if you'd like to be sent future digital issues of FLOOD, you can sign up for that here.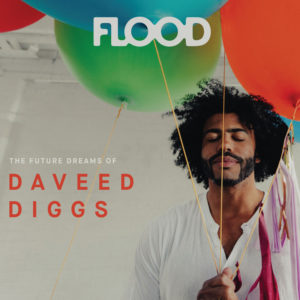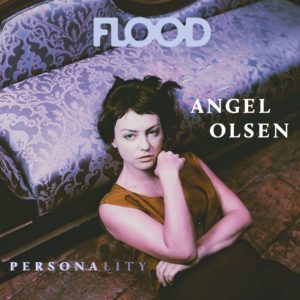 Like the Marquis de Lafayette, whose name has been given to cities and streets across our great country, Daveed Diggs is all around you. After spending time in the past as the Marquis and Thomas Jefferson in Hamilton, Diggs and his Clipping bandmates Jonathan Snipes and William Hutson ventured far into the future on their new album, Splendor & Misery. He's also taking his talents to screens both small and silver, playing a poet on ABC's black-ish and working alongside Julia Roberts and Jacob Tremblay in Wonder.
After releasing Burn Your Fire for No Witness in 2014, Angel Olsen saw her profile expand considerably, to the point that the popular image of her—the arboreal folk singer ensconced in the North Carolina woods—didn't actually jibe with the very real woman living in the very real city of Asheville. Upon the release of My Woman, a high point not only for her but for the year in music, Olsen sat down with us to talk about the ways she's tried to maintain a sense of herself as the lights shine even brighter.
https://www.youtube.com/watch?v=iOcoY-XjYzM
Elsewhere in the mag, Deap Vally gives comedian Liza Treyger the inside scoop on what it's like to tour with all-time crush Anthony Kiedis and the Red Hot Chili Peppers, author Jonathan Lethem—never one to shy away from sharing a few bold-faced names—tells us about the influences on his new novel A Gambler's Anatomy, and a pair of films centering around rock and roll legends pop up: director Andrew Dominik talks about the making of his new Nick Cave documentary One More Time with Feeling, and we take a close look at Nicolas Roeg's David Bowie–starring 1976 film The Man Who Fell to Earth on its fortieth anniversary with actress Candy Clark.
We also break out the candles and cake (and not the liver and onions) for Doug, the gentlest Nicktoon, on the twenty-fifth anniversary of the show's launch, and then head to the bar—four of them, to be precise—for a few drinks with Ace Hotel New Orleans. Fred Willard, Ed Begley Jr., and Bob Balaban stop by to talk about working with Christopher Guest on Mascots, and they all manage to avoid any unforeseen gardening accidents. We take a trip to Bon Iver's Eaux Claires festival in Wisconsin and even get some good love advice from comedian Charlene deGuzman.
https://www.youtube.com/watch?v=thwWYUbjWy0
Between all of that, we introduce you to a few of our new favorites: in addition to Breaking profiles of Clipping and Treyger, we'd like you to meet Tiffany Vazquez of Turner Classic Movies, Guy Shelmerdine of Dark Corner, political needlepoint artist Elsa Hansen, and musicians Alex Cameron, Shovels & Rope, and Nots. Oh—and we've got adorable children dressed like Captain Beefheart. What more could you want?
If you find yourself at an Ace Hotel, you're in luck: copies of FLOOD 5 are available in every room. Otherwise, click here and here to read or download either side, click here to buy a physical copy, and here to sign up to be sent future issues.