Festivals like to tell you that they have a narrative. And in some cases, that's true. Not so with Lollapalooza. That's the downside of staging 170 bands on seven stages across four days. But if you look around long enough, you see that there are more mini-narratives playing out on the grounds at Grant Park than there are dudes in basketball jerseys making questionable choices. Presenting twenty-three short stories about Lolla. Perry Farrell, you steam a good ham.
---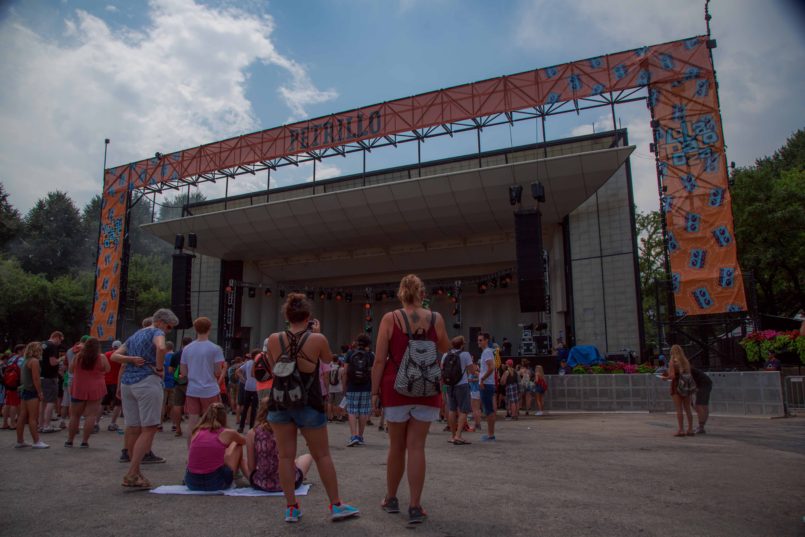 LEAD-OFF HITTERS
It's something of a thankless task to be the first of 170 bands at a four-day festival. Pinegrove are up to it, though, drawing a heavier crowd than you might expect for lunchtime on a Thursday. Their country-tinged indie rock easily expands to fill the field and if they're concerned about the time, they don't show it: "They have canned water here!" singer Evan Stephens Hall says between songs. "How cool is that?" — Marty Sartini Garner
THE WEEKEND'S FIRST NOTED MEDICAL SITUATION 
While Hiatus Kaiyote spread their starry eyed soul from the Petrillo Bandshell, a teenage girl goes stiff in her male partner's arms. He eases her gently to the ground and she recovers startlingly quick. He stays nearby while she downs a can of water and waves off the medic, doing his best to mitigate his desire to watch the action on stage while his friend is down. Later, Hiatus Kaiyote get a big cheer for a new song called "Chivalry is Not Dead." — MSG
---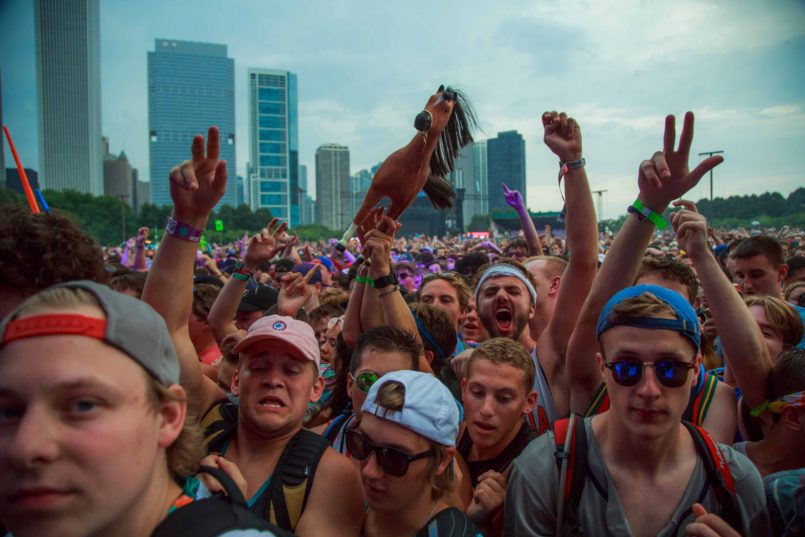 PEOPLE LIKE DANNY BROWN'S DJ AS MUCH AS THEY LIKE DANNY BROWN (WHICH IS A CONSIDERABLE AMOUNT)
Danny Brown is late, and it's been raining, and I've never had as much fun in my life as this crowd is having while waiting for him to show up. The DJ, who's warming up the audience, knows his target: he flicks easily between womping EDM and ScHoolboy Q, and when Kanye drops the "OK, OK, OK, OK, OK, OK" line in "THat Part," they jump together in such unison that I can feel the ground shake beneath my feet. They do not stop jumping until Danny leaves the stage an hour later. Even a middle-aged woman in a sun hat doing her Ravinia thing out on the lawn finds the groove. — MSG
---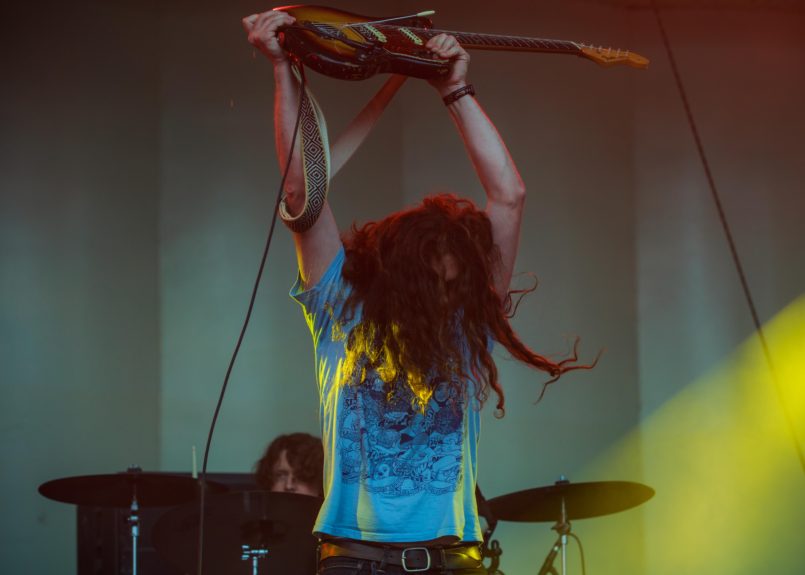 KURT VILE AND THE VIOLATORS LET SOME OF THE SUNSHINE IN
Kurt Vile is 75% Lollapalooza—the 1991 iteration—and 25% Woodstock. He's perpetually bored, but he's glad we're here. Girls with wide-brimmed hats are grooving on the side of the stage. He tells us we're beautiful as his songs turn into ten-minute jams. "Our new album is available in stores now," he says, from behind his wall of hair. "We love you guys." — Lydia Pudzianowski
---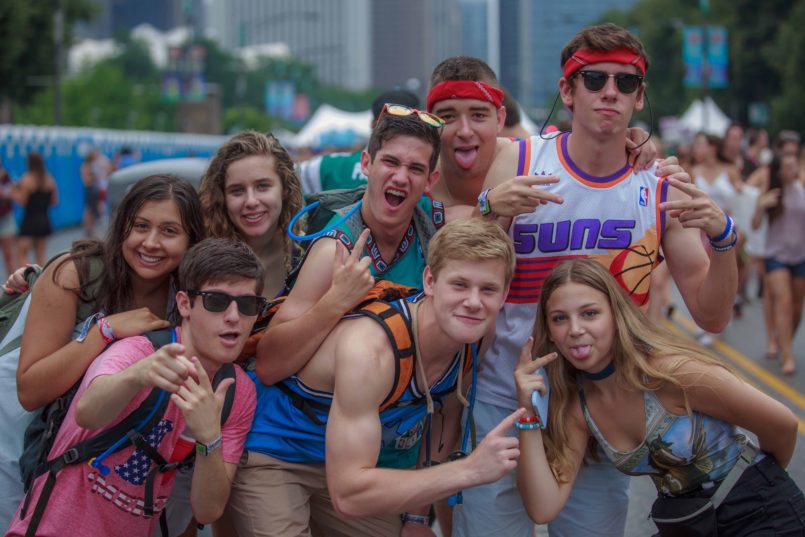 A WOEFULLY, COMICALLY, EVEN HYPERBOLICALLY INCOMPLETE SURVEY OF BASKETBALL JERSEYS SPOTTED IN THE CROWD DURING LOLLAPALOOZA'S FIRST TWELVE HOURS
LeBron James (Cavaliers); Michael Jordan (pre-championship Bulls); Michael Jordan (ToonSquad); Penny Hardaway (white Magic); Derrick Rose (Bulls); Michael Jordan (classic Bulls); Kobe Bryant (blue throwback); Larry Bird; Kobe Bryant (black alt with purple trim); Allen Iverson (Nuggets); Kawhi Leonard; Bill Murray (ToonSquad); Michael Jordan (UNC); Russell Westbrook (UCLA); Kyrie Irving (script throwback); Vince Carter (Raptors); Christian Laettner (Timberwolves); Kevin Garnett (All-Star jersey); Scottie Pippen; Allen Iverson (late '90s 76ers); Michael Jordan (San Antonio 1996 All-Star jersey); Penny Hardaway (blue Magic); Ben Simmons (LSU); Nick Young (76ers); Scottie Pippen (black with red pinstripes); Paul Pierce (Celtics); Baron Davis (Hornets); Paul Pierce (Kansas); Karl Malone; Metta World Peace (Lakers); Shaq (Heat); Dr. J (76ers); Rajon Rondo (Celtics); Kevin Durant (Golden State); Steph Curry; John Stockton; Michael Jordan (Bullets); Shaq (Magic); Russell Westbrook (Oklahoma City); Muggsy Bogues; Dennis Rodman (Bulls); Gary Payton (Supersonics); Charles Barkley (Suns); Shaq (LSU); Jimmy Butler; Dikembe Mutombo (Nuggets); Carmelo Anthony (Knicks); Damian Lillard (white); Michael Jordan (Dream Team); Michael Jordan (Dream Team II); Shaq (Dream Team II); Jackie Moon (Flint Tropics); Larry Bird (Indiana State); John Stockton (Dream Team); Chris Bosh (Raptors); Tracy McGrady (Raptors); The Oregon Duck; LeBron James (St. Vincent–St. Mary); Ron Artest (Pacers); Dirk Nowitzki (green); Dirk Nowitzki (blue, standing next to green); Bugs Bunny (ToonSquad); Reggie Miller; Jerry West; Larry Bird (Dream Team) — MSG
LANA DEL REY: KILLING YOURSELF TO LIVE
I'm looking at Lana Del Rey and wondering if she's alright. I'm pretty sure that's what she wants. Her stage presence is nonexistent and her voice is incredible. I realize I'm swaying back and forth. So is everyone else. She's playing hard to get, but then she spends a solid five minutes talking to fans in the front row and taking pictures with them at the end of "Born to Die." She needs us. She doesn't need us. — LP
RADIOHEAD T-SHIRT SLOGANS, A MOON SHAPED POOL TOUR EDITION
"it was just a laugh just a laugh"
"the future is inside us"
"why should i be good if you're not"
"different types of love" — MSG
---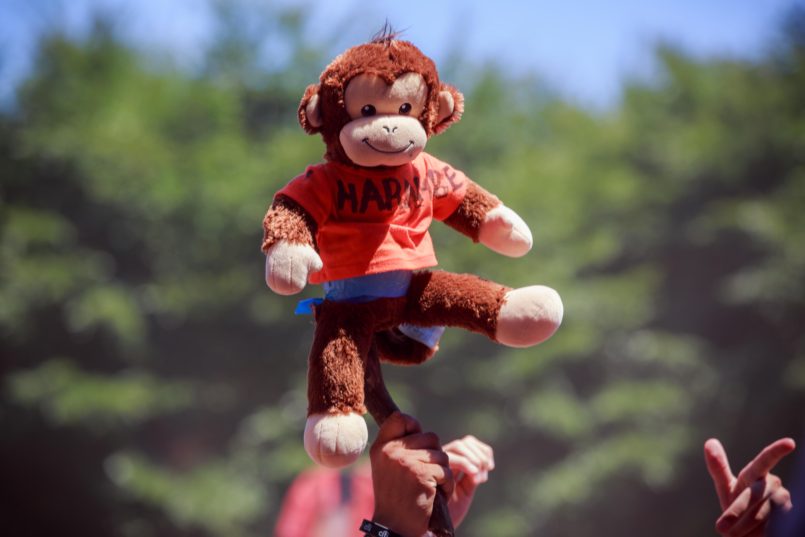 MEMES COME TO LIFE
"Do you have any good memes in Chicago?" Modern Baseball's Jake Ewald asks. The crowd erupts with a babble of answers that finally coalesces into a consensus that will not shock anyone who has been near the Internet or a major gathering of people in the last two months: we have Harambe. The Philadelphia emo quartet dedicate their next song to the fallen gorilla. — MSG
---
THE ONLY WAY TO SAVE MONEY AT LOLLA
Chance the Rapper and Vic Mensa might draw all of the attention (and Chance himself drew an overstuffed crowd at a surprise show across town at Metro Sunday night), but Chicago's Save Money crew, which includes both rappers, show off and turn out at Lolla. Towkio and Saba both earn "We want!" chants from the crowds, and both flex their talents. Towkio brings out a bank of footwork dancers, Saba leads the crowd through the first verse and hook of Chance's "Angels," on which he's featured. Joey Purp, meanwhile, takes advantage of his last-minute addition on the EDM-themed Perry's stage to bring out Mick Jenkins, Twista, Saba, and Kami de Chukwu, but he acquits himself solo on the massive stage, too, confounding, commanding, and winning over a crowd that don't wanna hear him, they just wanna dance. — MSG
QUIT PLAYING GAMES WITH MY CROWD
While we wait around for Radiohead, the Samsung Stage video boards offer up an SNES-quality interactive game called Flappy Crowd. Briefly: a bird must fly through a gauntlet collecting coins, and he's guided only by how loudly we yell, presumably to the confusion of Miike Snow, who are working it out on the nearby Lake Shore Stage. — MSG
---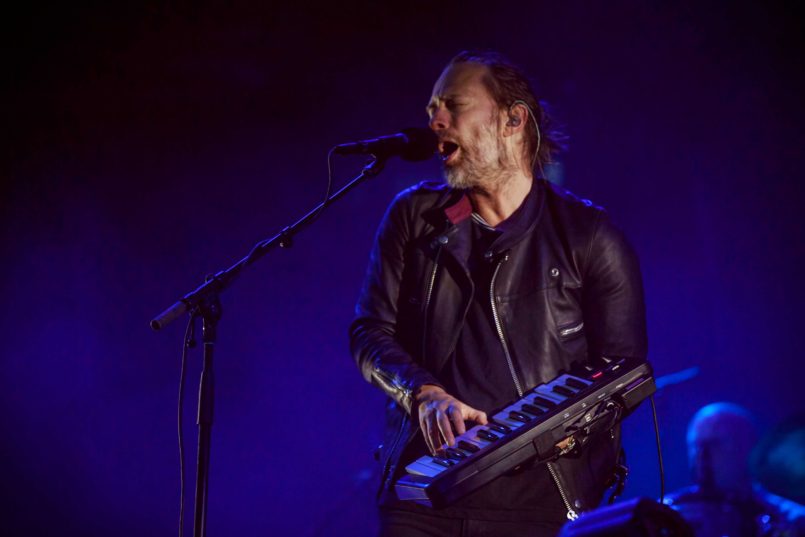 2 + 2 = 2016
Radiohead aren't a great political band. For all of their considerable musical genius, their attempts at engaging with current events have always felt ham-fisted. But these are ham-fisted times (tiny little ham-fists) and when the Oxfordshire quintet overdrive the virulent ending of Hail to the Thief's "2 + 2 = 5" on Friday night, all of that "Don't question my authority or put me in the box" stuff feels chillingly relevant. Moments earlier, during A Moon Shaped Pool's "Daydreaming," Chicago mayor Rahm Emanuel wanders down the cordoned-off catwalk in the middle of the crowd to the delight of approximately nobody. His hardly noticed exit feels almost symbolic, an unceremonious casting off of Chicago's own little tyrant.
It's tempting, as it always is, to draw huge conclusions from a Radiohead set, particularly one taking place on approximately the same spot that Barack Obama accepted the presidency in 2008. Even at its most conventional ("Let Down," say, which they play with majestic swirl), the band's music is challenging and brainy, and enjoying it can be cultural shorthand for a certain kind of left-leaning white person. But you don't headline major festivals on the backs of New Yorker readers alone, and Radiohead are smart enough to know this—and anyway, as the raucous finale to "2 + 2 = 5" shows, they love to get their jollies off as much as the next group. 
So, unsurprisingly, there's plenty about the band's headlining set that resembles a conventional big-time rock and roll show: everyone sways their arms from side to side at Thom Yorke's direction during "Myxamatosis," the crowd claps off rhythm elsewhere, a guy reprimands his girlfriend for not paying the proper attention. Couples grind on one another and kiss to "Street Spirit (Fade Out)." 
But for most of the set, it's hard to deny the unique power of what's happening on stage. The one-two of "Everything in its Right Place" into "Idioteque" is particularly powerful. The nauseated four-chord drone that forms the core of the latter song comes across the field with an ache, battered by the percussion and spooked by the polyrhythmic strobes. Every little tick of sound in "Weird Fishes/Arpeggi" is its own miniature sparkle, sticking like the sifting of thousands of grains of sugar. During the intro to "Climbing Up the Walls," Jonny Greenwood dials in what sounds like the White Sox–Twins game on a portable radio and warps it beyond comprehension, burying it in the song's body and ripping it back out near the end. 
It's not the best set Radiohead have ever played—the jazzy and heavily acoustic Moon Shaped Pool material feels flat in this particular environment—but it still feels like the kind of bloodletting we need. — MSG
---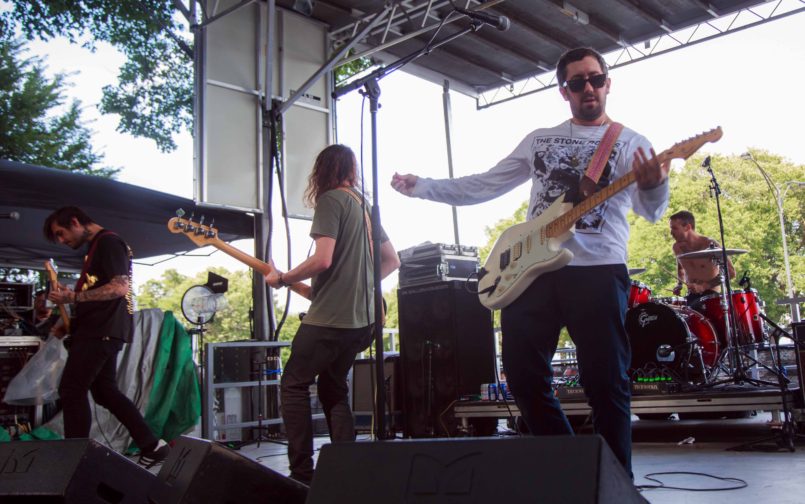 NOTHING IS PROBABLY OKAY
NOTHING begin their set at the tiny BMI Stage with a five-minute drone whose volume escalates until it takes over half of Grant Park, follow it with a long Allen Ginsberg sample about the necessity of love, then more feedback, until they finally release into the aching, stupidly beautiful vocal melodies of "Fever Queen." They look rough, and the music is so punishing, and their lives have been so hard, but it all opens like a corpse flower to a vulnerability that makes you want to audibly root for them; theirs is the kind of beauty that doesn't come when reflecting upon old struggles now defeated, but in the urgent search for mercy now. They end with another sample, this one from Richard Brautigan, about how pain is essential. "It's all there is." — MSG
---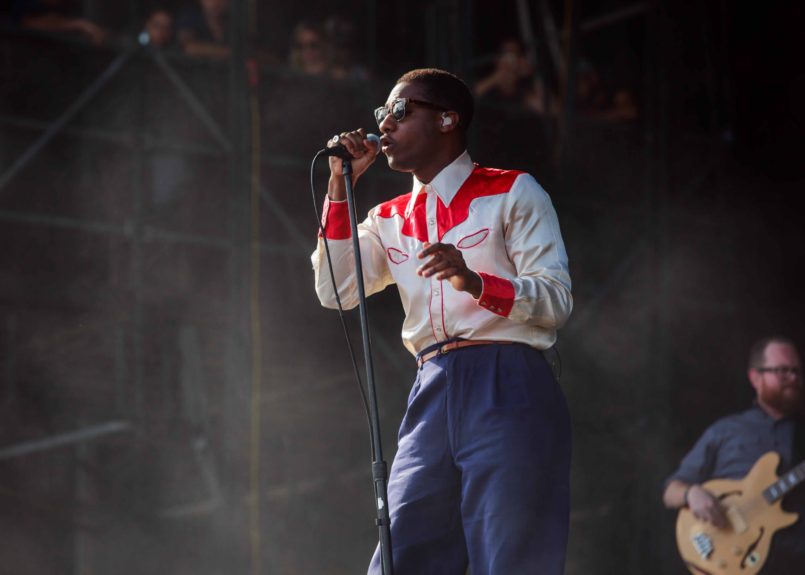 LEON BRIDGES COMES HOME
"Chicago," Leon Bridges says, "let me see you do your thing." There are people in the crowd who could look up at Bridges, dressed to the vintage nines in this heat, and think for more than a second that it's 1962 and this is Vee-Jay Records' newest act. When Bridges sings "Coming Home," he's talking about Texas, but Chicago's thing is his thing. — LP
---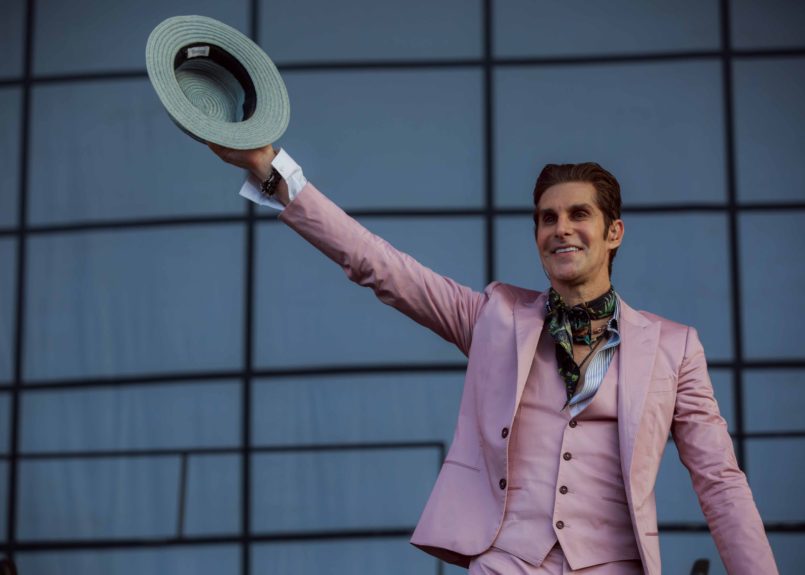 JANE'S ADDICTION'S HABITUAL RITUAL
Just before this year's festival, Perry Farrell expressed in an interview how much he hates EDM, which is what his namesake stage is dedicated to. "I want to vomit it out of my nostrils," he said. I have a feeling that Jane's Addiction's stage show hasn't changed since 1990. There are dancers in lingerie. One of them is Perry Farrell's wife. Tom Morello and Jimmy Chamberlin make cameo appearances. During "Been Caught Stealing," Farrell sings, "It's mine. Mine, all mine." — LP
CLAIRE BOUCHER IS A SUPERHERO IN NEED OF A BLOCKBUSTER
Nobody—and I mean nobody—is better suited for a breakout set at Lollapalooza than Grimes. She's given a prime slot ahead of the Chili Peppers, and despite two sprained ankles, she works her crowd into a frenzy, triggering samples from Art Angels and sprinting back to the front of the stage to dance with her three-woman crew. At times, her idiosyncratic vision manifests itself as a suicide-soda drawn from Lolla's entire menu: thumping EDM, thrashing guitar rock, edgy pop all nearly indistinguishable from one another. — MSG
---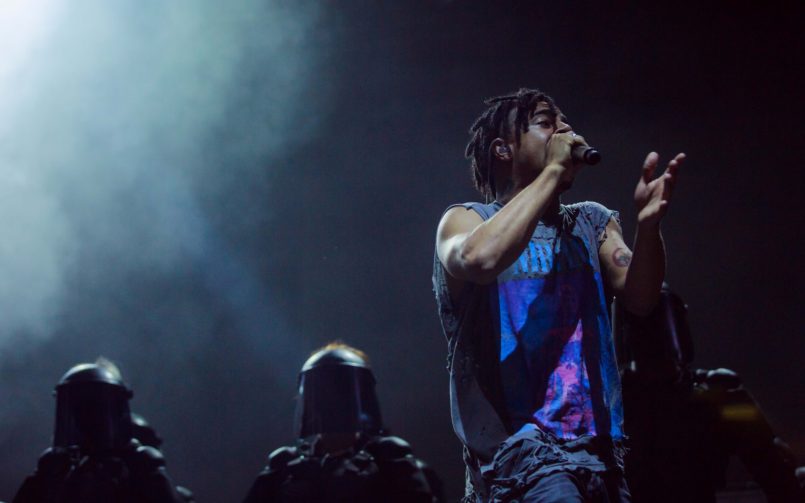 VIC MENSA WANTS YOU TO WAKE UP
As the Chicago Reader's Leor Galil notes in his cover story about Vic Mensa's political consciousness, Lollapalooza isn't an event designed for confrontation. Mensa does not care. He dedicates "16 Shots," about the killing of Laquan McDonald, to the Chicago Police Department, and he's surrounded on stage by a dozen or so costumed police in riot gear. As Mensa spits the chorus's cadence ("Six! Teen! Shots!"), they all turn and mime shooting him on the beat. Then they swarm, and Mensa fights them off. "This is what happens when niggas don't stay in their places," he raps. It's the most deliberately provocative set I've seen at a major festival, and given Lolla's privileged position at the center of the city's skyline, a necessary reminder that life's not breezy in huge sections of the Windy City. — MSG
---
RED HOT CHILI PEPPERS: WHAT'S MY AGE AGAIN?
Let's say the average Lollapalooza attendee is twenty-three years old. That means they were born in 1993 and were ten in 2003. I'm twenty-eight. We are all at the Red Hot Chili Peppers' closing set on Saturday. The younger folks know all the words to "Can't Stop," and they sing it louder than Anthony Kiedis, who's wearing board shorts and a knee brace. They leave to get more beer during the title track from Blood Sugar Sex Magik. They know all the words to "Californication," and they all have audio of me singing "Hard core, soft porn," on their phones. — LP
A BRIEF BUT IMPORTANT NOTE ABOUT NEW DEVELOPMENTS IN PIZZA
If you will humor me and allow me a momentary aside about food—I am after all The Man Who Ate Lollapalooza—the sleeper hit of the festival, musical or otherwise, is Bella Bacinos and their Pizza Cups Milano, which debuted at last year's World's Fair in Milan. Do not let the word "Milan" mislead you into thinking this is some kind of "take" on pizza; you are giving these people $5, and they are giving you two gloriously chewy miniature deep-dishes. They are gourmet Bagel Bites. They are Ninja Turtle–sized. They are the apotheosis of festival food. If the wasted teens spilling out of Perry's don't make this the new Pizza Rolls, I will lose faith in the Internet. — MSG
---
D.R.A.M. WANTS YOU TO LOVE YOURSELF 
If Steve Harvey were your dad, D.R.A.M. would be your cool uncle. It is important to him that you show love to your mom. "If you love your mother, say 'yeah doe,'" the Virginia R&B singer says frequently between songs. He also alternates between saucy get-down slow jams and brassy, bright existential explorations, and he makes frequent references to marijuana as "broccoli." All of it is punctuated with "Did you ever notice?" stage banter that makes him sound like he's warming up the room at a class reunion. Near the end of his set, he tells us to take out our phones and turn on the selfie camera and say these four words into the lens: "You are very special." "Y'all sound good!" he says when we sing along to "D.R.A.M. Sings Special," from Chance the Rapper's Coloring Book, and it's as if he's been watching us get better at this for all of our lives. — MSG
---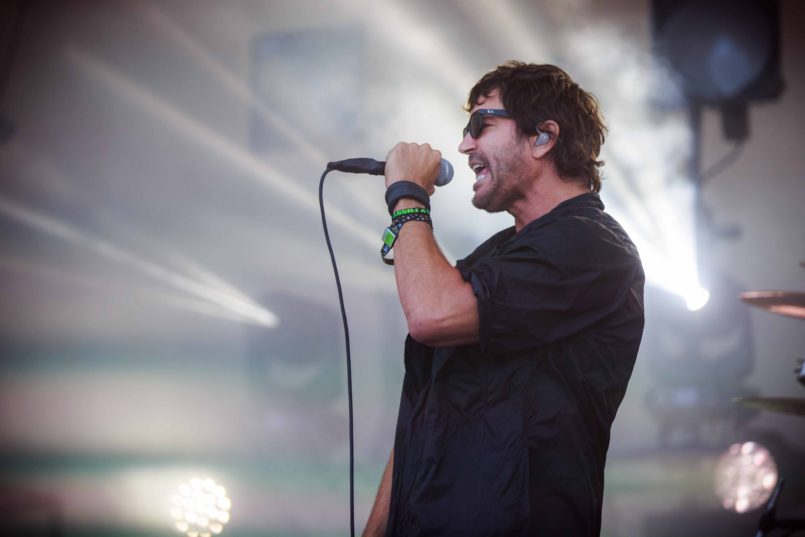 THIRD EYE BLIND GRADUATES
I'm sweating and eating sub-par poutine in the shade, waiting for Third Eye Blind to start. A large bouncer at the VIP entrance is denying people at a rapid rate. Later, he sings along to the chorus of "Semi-Charmed Life" as a guy in a wheelchair crowd-surfs his way to the stage. A young man leaving the headliner-sized crowd says to his friend, "So, I paid for Lollapalooza to see Future and Third Eye Blind." — LP
---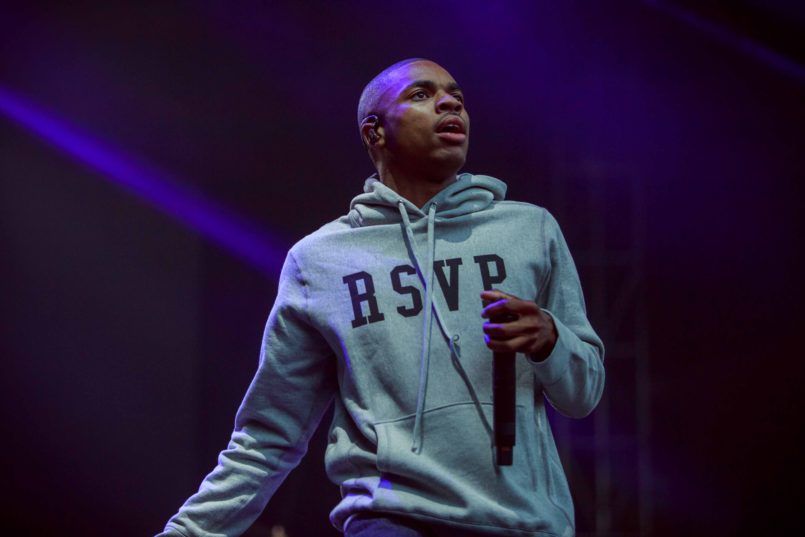 VINCE STAPLES ISN'T TIRED
The last time I saw Vince Staples, he was tired: physically tired at the tail end of a long run at SXSW, emotionally tired of trying to connect his very black experience to a very white audience. At Lollapalooza, he is wide awake. He suggests that we go "motherfucking crazy," which is not really something that the clatter and angst of his music is designed for, and he seems to know it without paying it much mind. His command is gratified. — MSG
DIE ANTWOORD: LET'S GET WEIRD
Lollapalooza is nowhere near as freaky as advertised; the headliners certainly aren't. But Die Antwoord are freaking people out a little—and the Perry's crowd, at that, which is a tall order. Yolandi Visser and Ninja are rapping in front of screens showing colorful cartoon men joyfully riding around on their oversized penises. As their set ends, a college-aged guy leaves Lollapalooza singing "Enter the Ninja": "I am your butterfly, I need your protection, be my samurai." — LP
---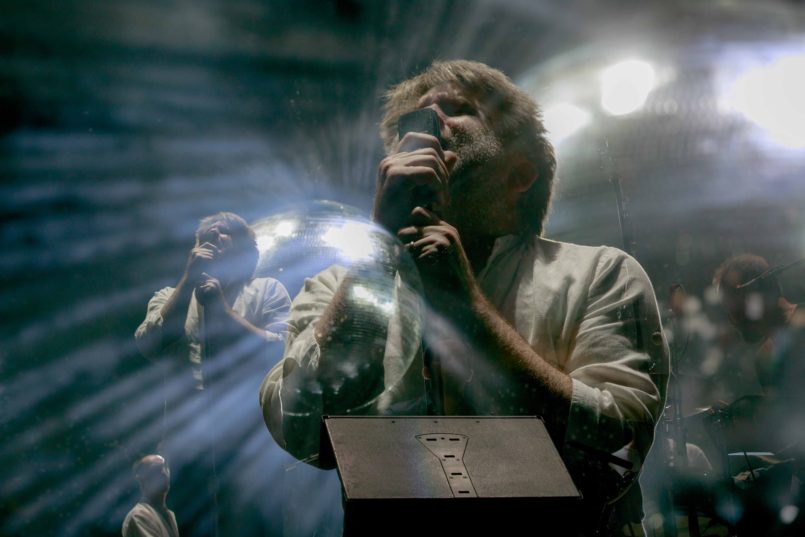 TURN OUT THE DISCO LIGHTS, THE PARTY'S OVER
This reunion began as a glimmer in the eye of James Murphy the day after LCD Soundsystem played their (erstwhile) last-ever show at Madison Square Garden in 2011. You can see in his eyes the regret, the longing for what is lost, immediately as he tells Chuck Klosterman about why the band had to come to an end. He looked like a character in one of his own songs. 
It's hard, then, to be cynical about this, hard to blame Murphy for wanting to reclaim the magic he thought he lost (and to get paid for doing so). And while it's worth questioning whether LCD Soundsystem are a legitimate major-festival headliner—from my spot 1/3 of the way back, the first bars of "Losing My Edge" earned no cheer of recognition, but "All My Friends" set the entire field off—there's no questioning that these songs were always meant to be played in the past tense. Reminiscence is their engine; it's what made LCD Soundsystem so poignant the first time around. 
That backwards focus, the tension between the abundance of the present and the difference of the past might also have been the defining trait of the New York scene from which Murphy felt alienated and which gave the band its strongest support. From afar, "New York I Love You But You're Bringing Me Down" and "All My Friends" were totems representing the best reasons why people moved to New York City in the first place: to feel those big and complicated feelings, to be energized and depressed by one's surroundings, to have a sense of place and for that place to matter more than any other. That time, and that feeling, and even that sense of NYC, have all gone as the scene has matured and in some cases retired. We're all moving to LA now anyway. — MSG