It's time to pay respects and recognize the real March madness: SXSW in Austin, Texas.
FLOODfest is ready to make the most of the annual music industry bacchanal with two days of amazing music to soundtrack a week full of meetings, greetings, late nights, early mornings, endless lines, and the best BBQ this side of St. Louis.
RELATED: RSVP to FLOODfest @ SXSW 2019
So please join us during the light of day on March 12 & 13 at the Cedar Street Courtyard for ATL hip-hop legends Dungeon Family (feat. Big Boi, Goodie Mob, and Organized Noize's Sleepy Brown), as FLOOD presents the debut show of the rap collective's highly anticipated 2019 reunion tour.
Over the course of the two-day FLOODfest, catch live sets from Broken Social Scene, White Denim, Leikeli47, Priests, HÆLOS, Illuminati Hotties, Kari Faux, MUNYA, Herizen, and Moritz Simon Geist.
RELATED: Freaky Stylin': Getting Into Bed with Big Grams
Attendees will also experience a new dimension in sound with the Magic Leap spatial computing technology via Sigur Rós' Tónandi project and Sennheiser's Ambeo.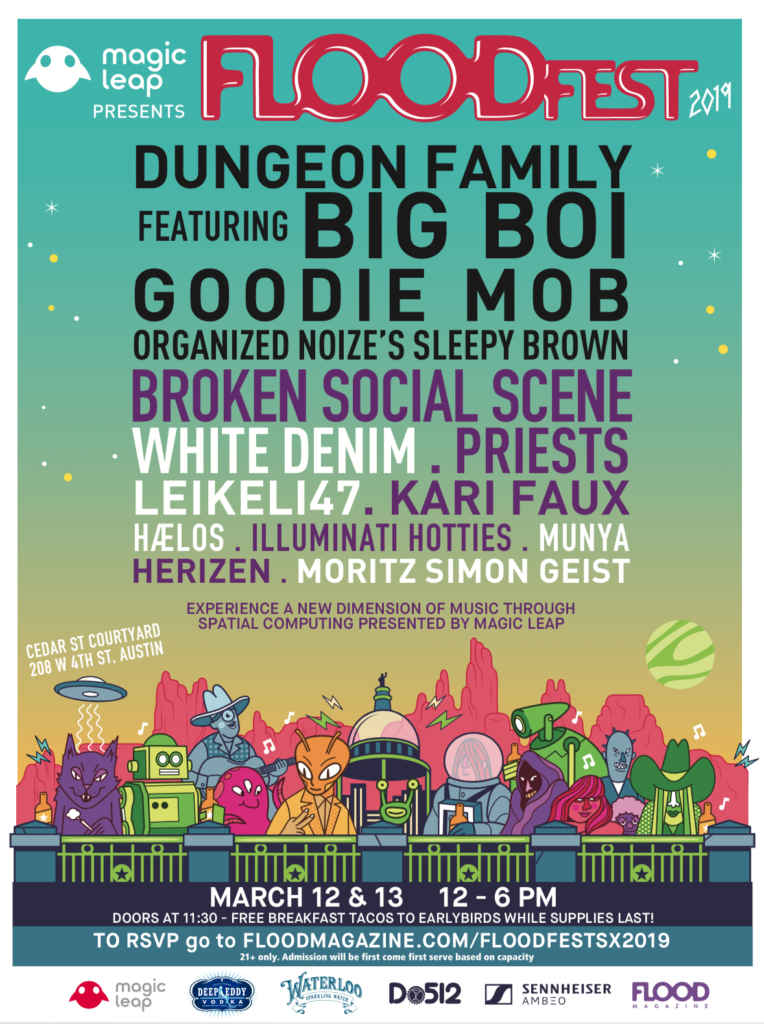 "As multimedia art projects go, Tónandi is pretty amazing stuff—an interactive audiovisual experience that makes you feel like you're inside Sigur Rós' otherworldly music, communing with it in ways far beyond what could be achieved with any existing augmented reality app or VR headset," Andy Hermann reported for FLOOD last year.
RELATED: Big Boi Wins the Super Bowl
The fun kicks off at 11:30 a.m. on both days, so make your plans accordingly. We're sweetening the deal by rolling out free breakfast tacos to those early birds who make the scene in time to snag one (or three) of the delicious morning treats.
For those about to hightail it to Austin for SXSW 2019 and eager to take in everything FLOODfest has to offer, do you and yours a favor by RSVPing to the event right here. See y'all in Texas, friends. See a complete breakdown of the daily artist lineups below.
FLOODfest @ SXSW 2019 TUESDAY, MARCH 12:
12:00 p.m. MUNYA
1:00 p.m. Illuminati Hotties
2:00 p.m. Priests
3:00 p.m. HÆLOS
4:00 p.m. White Denim
5:10 p.m. Broken Social Scene

FLOODfest @ SXSW 2019 WEDNESDAY, MARCH 13:
12:30 p.m. Moritz Simon Geist
1:30 p.m. Herizen
2:30 p.m. Kari Faux
3:30 p.m. Leikeli47
4:30 p.m. Dungeon Family feat. Big Boi, Goodie Mob and Organized Noize's Sleepy Brown